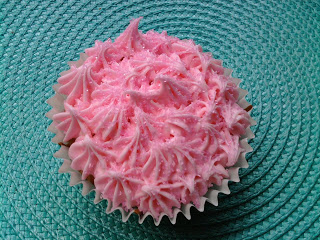 This weekend I babysat a couple of kids for a friend of mine. It was a bit hectic to double the number of children around here but we made the best of it. One of the "kids" was a 13 year old girl. Being the lone female in this house, I was excited to have another one around. Having assessed her love for pink given the bright pink hoodie she worse the first night, I quickly decided that the following day, we would bake together.
I needed to bake something that wouldn't take too much effort or time away from the task at hand; playing mediator to 3 and 6 year old boys. I found this recipe on good ole Betty Crocker's website and it seemed promising and had good reviews.
Ingredients:
1 box Betty Crocker® SuperMoist® white cake mix
1 1/4 cups strawberry-flavored soda pop
Vegetable oil and egg whites called for on cake mix box
Red food color
1 container (1 lb) Betty Crocker® Rich & Creamy® cream cheese frosting
Fresh strawberries, if desired
Directions:
1. Heat oven to 350°F (325°F for dark or nonstick pans). Place paper baking cup in each of 24 regular-size muffin cups. Make and bake cake mix as directed on box for 24 cupcakes, substituting soda pop for the water and using oil and egg whites. Cool in pan 10 minutes; remove from pan to cooling rack. Cool completely, about 30 minutes
2. Stir 1 or 2 drops food color into frosting. Frost cupcakes.
That's it!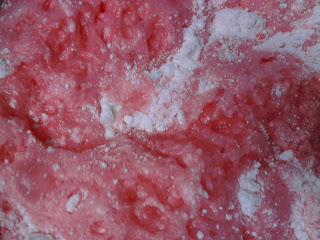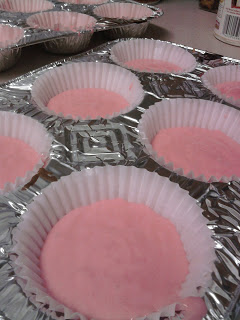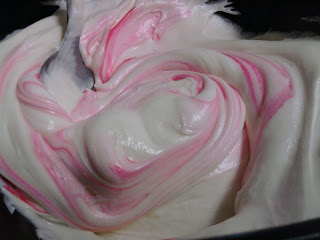 Her first adventure with a pastry bag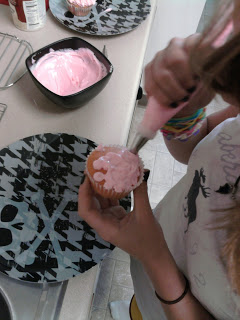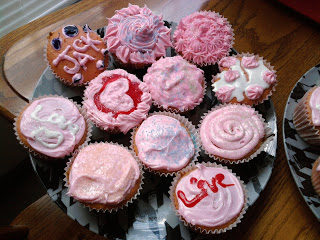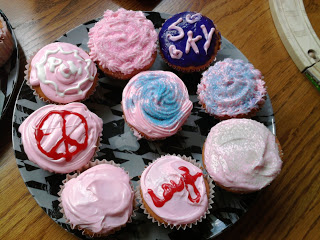 Cute right? The only one I did was the one at the top of the page. She handled the rest. And she even jotted down the recipe to take home on one of my recipe cards.