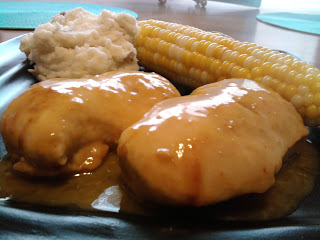 Ingredients:
1/2 cup honey
1/3 cup Dijon or spicy brown mustard
3 teaspoons curry powder
6 tablespoons butter, melted
1/8 teaspoon pepper
Dash ground cayenne pepper
4 split chicken breast halves, bone-in, skin removed or left on.
(I usually use boneless skinless. Meat on the bone freaks me out a bit. But aren't I such a nice vegetarian wife to cook all these carnivorous things? )
Directions:
1. In a bowl, combine the honey, mustard, curry powder, butter, and peppers; blend well. Wash chicken breasts and pat dry. Trim away any excess fat and remove skin, if desired. Arrange the chicken breasts, skin or meaty side up, in a lightly greased baking pan. Coat the chicken with the honey mixture. Cover with foil and refrigerate for an hour or two.
2. Bake the chicken, covered, in a 375° oven for 45 minutes. Remove foil and baste the chicken. Continue baking, uncovered, for 30 minutes longer, basting every 10 to 15 minutes.
* I served it with our favorite mashed potatoes; skin on, and whipped with cream cheese and milk. It's a sin in 47 states I think.