I made these for Nicci last weekend. She's never had a petit four before and I was aghast! This is only because petit fours have always been my most favorite dessert. If I had it my way, we'd have had a tower of them instead of a wedding cake. As it were, my cake was pretty amazing, see?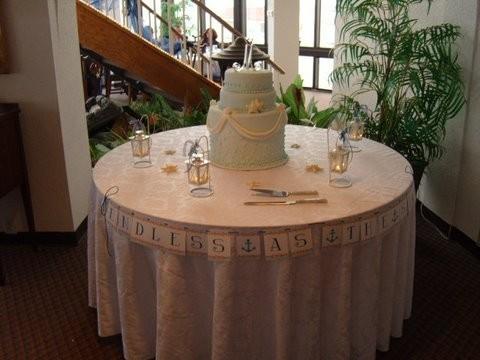 But that's beside the point. Back to the wondrous petit four. You've noticed I never do fruit based desserts, and that's because my husband hates fruit. Sad face. So I knew when I was going to bake for Nicci, it would be my chance to sneak in some sort of fruit.
I decided to make Strawberry & Cream Petit Fours. Naturally, you can play with flavors and fillings with these. I filled the cakes with strawberry preserves and did a pink icing with a dollop of vanilla buttercream.
These are not, by FAR, the prettiest petit fours I've done, but considering we had 3 little boys under 4 between the 2 of us running amok, I think they are all right.
Wow, I've done a lot of talking about these little cakes, haven't I? Told you, they are my favorite!
♥ Note: You will need a candy thermometer for the icing recipe I've used. ♥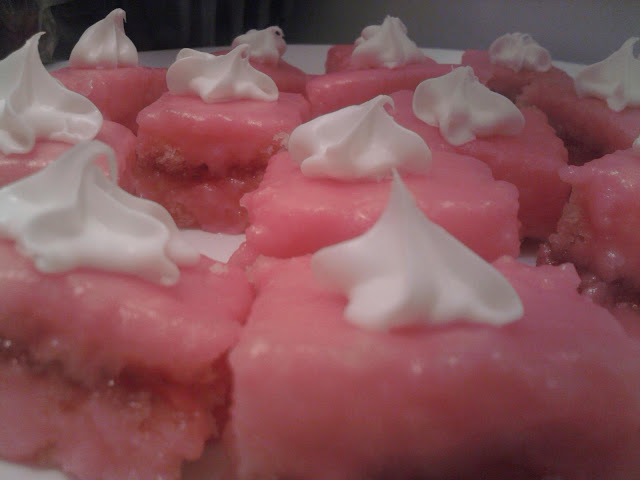 Hot Milk Sponge Cake
Ingredients:
2 Eggs
1 cup sugar
1 cup all-purpose flour
1 tsp baking powder
1/4 tsp salt
1/2 cup milk
2 Tbls butter
Directions:
1. Grease a 9x9x2 baking pan (which I don't have. I use a regular 13x9 cake pan.) In a small bowl, beat eggs with mixer at high speed for about 4 minutes or until thick and lemon colored.
2. Gradually add sugar and beat at medium speed 4-5 minutes or until sugar dissolves.
3. Stir together flour, baking powder and salt. Add to egg mixture and stir with spoon just until blended.
4. In small saucepan heat milk with butter until the butter is melted. Stir into batter and mix well. Turn into baking pan.
4. Bake at 530 degrees for 20 to 25 minutes, turning pan halfway through, until done. Set aside to cool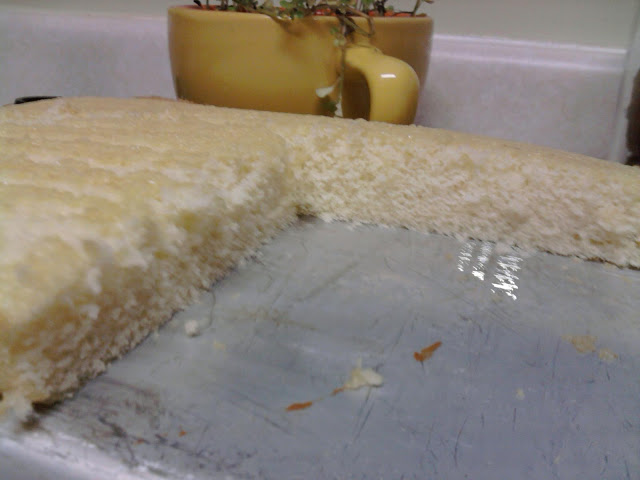 Once cool, cut the cake into 4 sections and then cut each section in half lengthwise. Using a pastry brush (or your hands) gently brush all the crumbs off the cake surface. On the bottoms of each section, spread the filling of your choice, then replace tops. Cut into small squares and place on a rack that has been set atop the baking pan. (This is to catch and re-use the icing.)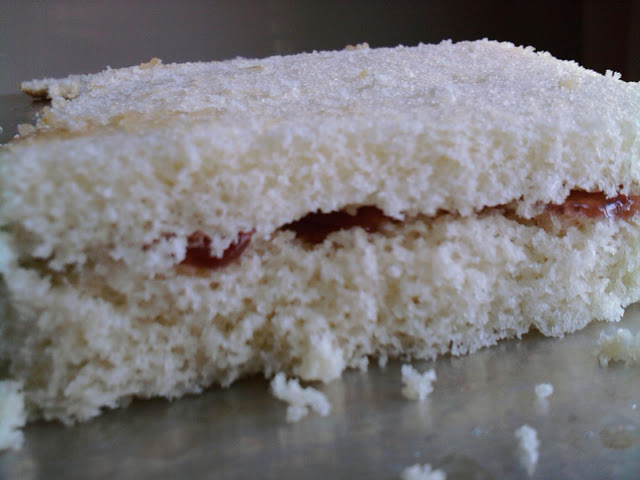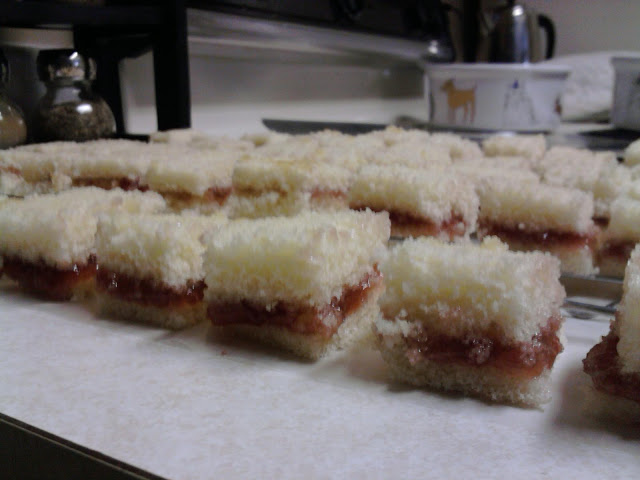 Petit Fours Icing
Ingredients:
3 cups granulated sugar
1 1/2 cups hot water
1/4 tsp cream of tartar
1 tsp vanilla
About 2 1/2 cups sifted powdered sugar
Food coloring (Drops, not gels)
Directions:
1. In 2 quart saucepan, combine granulated sugar, hot water and cream of tartar. Cover and bring to a boil. Uncover, clip candy thermometer to saucepan. (Note: make sure thermometer tip is submerged but don't let it sit on the bottom of the pan, your reading wont be correct.) Cook until temp reads 226 degrees.
2. Remove from heat and cool at room temp until thermometer reads 110 degrees. Stir in vanilla. Stir in enough powdered sugar to make it a pourable consistency. Tint with food coloring and spoon over pieces, allowing to dry after each coat. I usually do at least 3 coats.