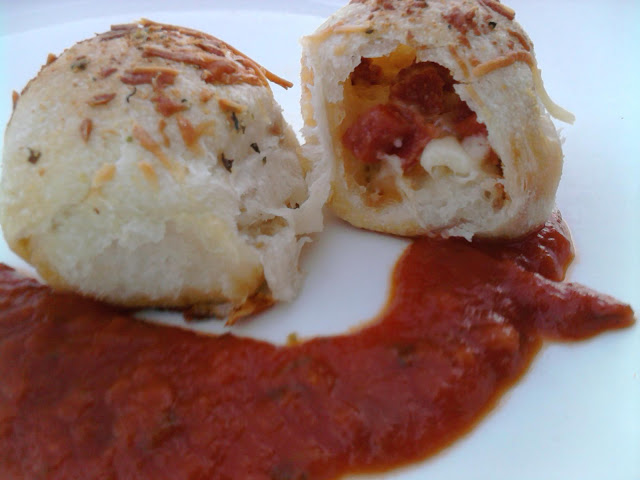 This is a super easy recipe for pizza rolls you can make 50 different ways in about a half an hour. You can stuff it with anything you want, just chop it up small enough to fit. They even make diced pepperoni that fits just right!
Ingredients:
1 roll of refrigerated pizza dough
2 Tablespoons Parmesan cheese
1 Tablespoon olive oil (or melted butter)
1/2 tsp garlic powder
1 teaspoon Italian seasoning
mozzarella cheese
your favorite pizza toppings, chopped
marinara sauce for dipping
Directions:
1. Preheat oven to 400 degrees. Roll pizza dough out to about 12in by 8in, then cut into 24 squares. Fill each square with mozzarella cheese and your favorite pizza toppings toppings.
2. Bring ends together and pinch to form a ball. Place seam side down in a greased pie pan.
3. Brush tops with butter/oil and season with garlic and Italian seasonings.
4. Bake 15-20 minutes or until golden brown. Sprinkle with Parmesan cheese and serve with marinara sauce for dipping.
**Fair Warning** You're going to want to make 2 batches of these. They go quick.