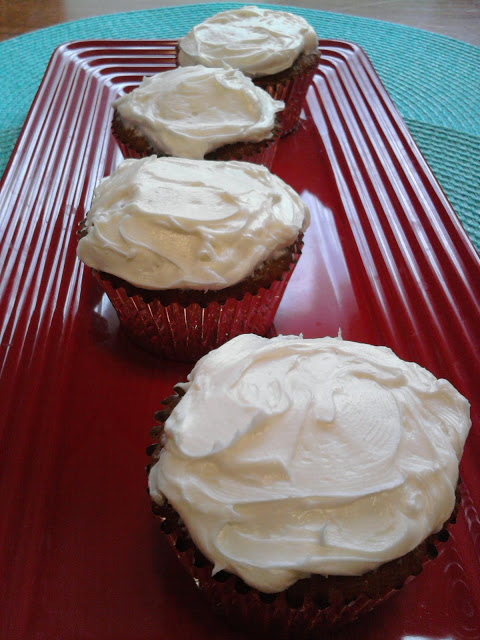 With Cream Cheese Frosting.....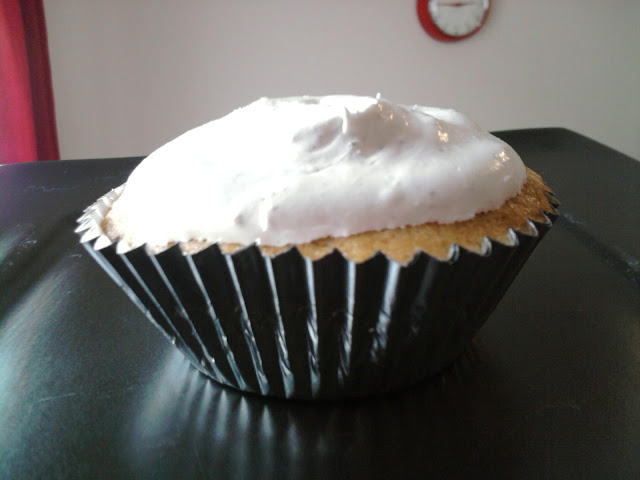 And with Marshmallow Icing.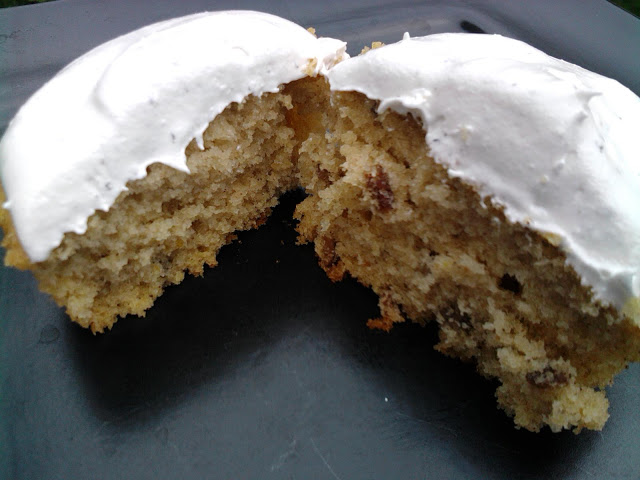 YUM!
So I've made these twice in 2 weeks. I wanted to play with the recipe a bit after the first time, and I also wanted to try it with a marshmallow icing. Aren't the marshmallows the best part of sweet potato casserole? I've included the recipe for both frosting's for you, give em' both a go! These are reminiscent of carrot cake in flavor.
♥ You will need foil cups for this recipe. If you would like bigger cupcakes, fill the cups 2/3 full and place them directly on a baking sheet. No muffin/cupcake pan needed! ♥
Don't forget to grab my new
button
on the right sidebar! Wear it proudly, faithful groupies!
Ingredients:
1 cup finely chopped pecans (optional, of course)
2 cups sugar
1 cup butter, softened
4 large eggs
1 15-oz. can mashed sweet potatoes
2/3 cup orange juice
1 teaspoon vanilla extract
2 teaspoons orange zest (optional)
3 cups all-purpose flour
1 teaspoon baking powder
1 teaspoon ground cinnamon
1/2 teaspoon baking soda
1/2 teaspoon ground nutmeg
1/4 teaspoon salt
Directions:
1. Place pecans in a single layer in a shallow pan. Bake at 350° for 8 to 10 minutes or until toasted, stirring once after 4 minutes.
3. Beat sugar and butter at medium speed with an electric mixer until blended. Add eggs, 1 at a time, beating until blended after each addition.
4. Whisk together mashed sweet potatoes, orange juice, and vanilla extract. Combine flour and next 5 ingredients. Add flour mixture to sugar mixture alternately with sweet potato mixture, beginning and ending with flour mixture. Beat at low speed just until blended after each addition. (Too much mixing and the batter will toughen up. You want it to stay thick and fluffy.) Fold in toasted pecans and orange zest. Place foil baking cups in muffin pans, and coat with vegetable cooking spray; spoon batter into cups, filling two-thirds full.
5. Bake at 350° for 28 to 30 minutes or until a wooden pick inserted into center comes out clean. Remove immediately from pans, and cool 50 minutes to 1 hour or until completely cool.
Adapted from Southern Living
Cream Cheese Frosting:
Ingredients
1/2 cup butter, softened
1 8-oz. package cream cheese, softened
1 16-oz. package powdered sugar
1 teaspoon vanilla extract
Directions
1. Beat butter and cream cheese at medium speed with an electric mixer until creamy. Gradually add powdered sugar, beating at low speed until blended; stir in vanilla.
Marshmallow Icing:
Ingredients
2 egg whites
1 1/2 cups white sugar
1/3 cup cold water
1 1/2 teaspoons light corn syrup
1 teaspoon vanilla extract
1 cup miniature marshmallows
Directions
1. Put egg whites, sugar, water and syrup in top of double boiler. Beat until mixed well. Place over rapidly boiling water. Beat constantly with electric beater while it cooks for 7 minutes or until it will stand in peaks when beater is raised. Remove from heat.
2.Stir in marshmallows and vanilla. Beat until they melt.