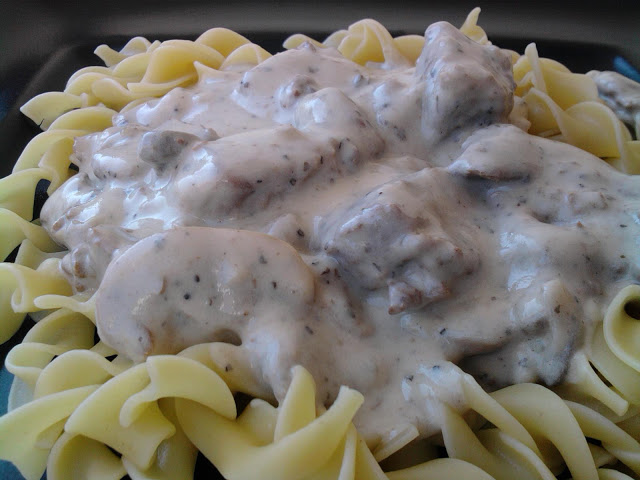 Beef and noodles has always been one of my husband's favorite dishes. Beef? Good. Mushrooms? Gooood? Add in some sour cream and sherry and he's a happy boy.
Ingredients:
1 tablespoon vegetable oil
2 lbs stew beef, cut into 1 inch pieces
1/4 lb sliced fresh mushrooms
2 tablespoons chopped onion
2 gloves garlic, minced
1 teaspoon salt
1 teaspoon dried oregano
1/2 teaspoon black pepper
1/4 teaspoon dried marjoram
1 bay leaf
1 1/2 cups beef broth
1/3 cup dried sherry
1 cup sour cream
1/2 all purpose flour
1/4 cup water
Hot cooked egg noodles
Directions:
1. Heat oil in large skillet over medium heat then add beef and brown on all sides.
2. Combine beef, mushrooms, onion, garlic, salt, oregano, pepper, marjoram and bay leaf in slow cooker. Pour broth and sherry on top. Cover and cook on low for 8-10 hours or high 4-5 hours.
3. Combine sour cream, flour and water in a small bowl. Add 1 cup of cooking liquid from slow cooker to sour cream mixture and stir, mixing well. Add mixture back to slow cooker and cook uncovered on high another 30 minutes or until thick and bubbly.
4. Serve over noodles.
adapted from Rival Simple 1-2-3 Slow Cooker Recipes