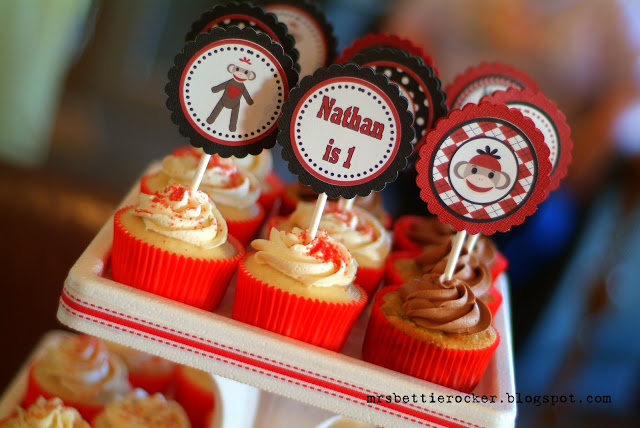 This is a mash up of 3 different recipes I used to create the perfect banana cupcake for Nathan's first birthday. (They are the cupcakes on the far right.) I thought banana would be a cute fit with the monkey theme, and who doesn't like chocolate covered bananas?
It occurs to me now that I should have saved and sliced one so you guys could see the cake. Oh well! Think like banana bread, only cooler!
Ingredients:
Cupcakes
1 1/4 cups all purpose flour
1 1/2 teaspoons baking powder
1/2 teaspoon baking soda
1/4 teaspoon salt
2 very ripe large bananas, peeled
1/2 cup sour cream
1 1/2 teaspoons vanilla extract
3/4 cup sugar
1/2 cup (1 stick) unsalted butter, room temperature
1 large egg
1 large egg yolk
Frosting
1/3 cup unsweetened cocoa powder
about 4 2/3 cups confectioners' sugar
6 tablespoons butter, softened
1-2 teaspoons heavy whipping cream
Directions:
Cupcakes
1. Position rack in center of oven and preheat to 350°F. Whisk flour, baking powder, baking soda, and salt in medium bowl to blend. Mash bananas with fork in another medium bowl until smooth. Mix sour cream and vanilla into bananas.
2. Beat sugar and butter in large bowl using an electric mixer until light and fluffy, (about 3 minutes). Add egg and egg yolk and beat until well blended. Add flour mixture in 3 additions alternately with banana-sour cream mixture in 2 additions, beginning and ending with flour mixture and beating just until blended after each addition. Divide batter among paper lined muffin cups
3. Bake cupcakes until toothpick inserted into center of each comes out clean, about 20 minutes. Transfer cupcakes to rack and let cool completely.
Makes approximately 1 dozen cupcakes
Frosting
Prepare frosting by
beating butter until smooth in a large bowl with electric blender. Slowly beat in powdered sugar 1/3 cup at a time. Add heavy whipping cream. Beat in cocoa. Refrigerate covered until ready to use.
*You may not use all the sugar or all the cream. Just play with it until it gets to the consistency you'd like. Every time I make this, I use different amounts.