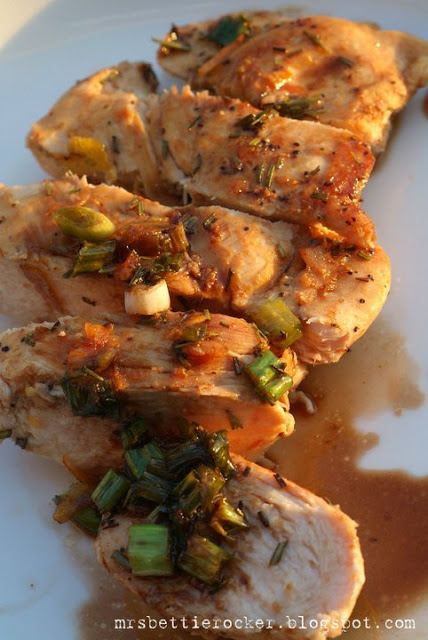 This is a new little diddy that came out of one of the many cookbooks Bill got me for Christmas. It went over well... so, into the rotation it goes! Even the baby enjoyed it. (But really, that kid eats ANYTHING.)
I've been enjoying the leftover marmalade on toast =) Being a vegetarian rocks.
Ingredients
2 pounds boneless skinless chicken thighs or breasts or any combination of light and dark meat
Salt and freshly ground black pepper
1 teaspoon poultry seasoning
2 to 3 sprigs fresh rosemary, leaves chopped
1/3 cup orange marmalade
1/4 cup balsamic vinegar
1/2 cup chicken stock
2 scallions, whites and greens, finely chopped
4 cups baby arugula
Directions
1. In a large pan, heat the extra-virgin olive oil over medium-high to high heat.
2. Season the chicken liberally with salt, pepper and poultry seasoning. When the oil is hot and ripples, add the chicken and brown for 5 minutes, then turn and sprinkle with rosemary. Cook until the chicken is tender and cooked through, about 5 minutes more.
3. In a small bowl, stir together the marmalade, vinegar and stock and pour over the chicken. Cook for 2 to 3 minutes or until the sauce has thickened and becomes a thin glaze. Add the scallions during the last minute of cooking time. Arrange on a serving platter and serve topped with arugula greens.
Via Rachael Ray's
Look & Cook
I'm Linking To These Rockin' Parties
Mad Skills Monday at
Super Stinky Boys
Making Monday Marvelous at

C.R.A.F.T.
Motivate Me Monday at

Keeping It Simple
Craft-O-Maniac Monday at

Craft-O-Maniac
Mad Skills at

Mad In Crafts
Made By You Monday at

Skip To My Lou
Show My What Ya Got at

Not Just A Housewife
Hoo's Got Talent at

Night Owl Crafting
Sundae Scoop at

I Heart Naptime