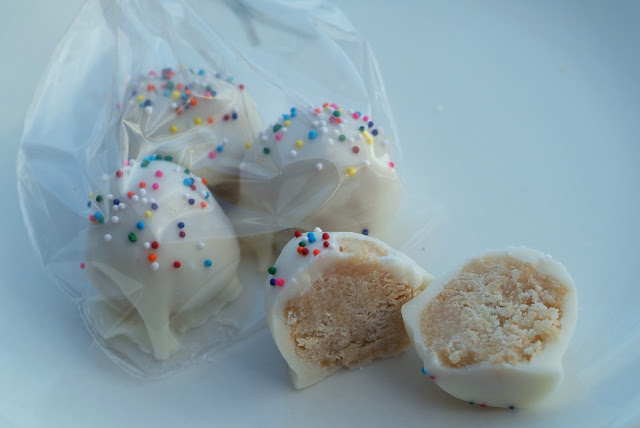 The third treat I made for the party were these amazing sugar cookie truffles. Now I've made Oreo truffles and every kind of cake ball you can imagine, but never thought to make these. I saw this recipe over at
Cookies and Cups
and got all kinds of excited. Jack LOVES cake and cookie truffles, (let's face it, who DOESN'T) and I know he'd be stoked on these.
Ingredients
1 16 oz. package of sugar cookie dough
2 ounces of cream cheese, room temperature
4 oz white melting chocolate OR 1 cup white chips
1 Tablespoon shortening
sprinkles for garnish
Directions
1. Bake cookies according to package directions until CRISP and cool completely. (You will likely have to cook them a little longer than the package instructs.)
2. Add the cookies to a blender or food processor and process until the cookies are fine crumbs. Add cream cheese and process until they begin to hold together. (You can also do this part by hand, which is what I did. It was messy but it worked. The mixture is going to feel a little dry, which is OK.)
3. Line a cooled baking sheet with wax or parchment paper. Roll dough into 1 inch balls and place on sheet. Freeze about 20 minutes.
4. Melt white chocolate and shortening according to package directions. Dip each ball into melted chocolate and add sprinkles while wet.
5. Allow to dry completely before storing, covered, in the refrigerator.
Adapted from
Nestle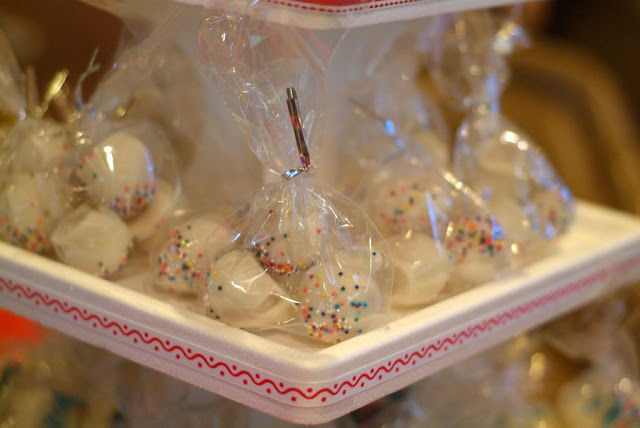 I'm linking to these Rockin' Parties
Anything Related Tuesday at

All Thingz Related
Letting the Tuesday Creative Juices Flow at

These Creative Juices
Show Me What Ya Got at

Not Just A Housewife
Whats Cooking Wednesday at

Not So Homemade
Cheap Thrills Thursday at

Black Cat's Design