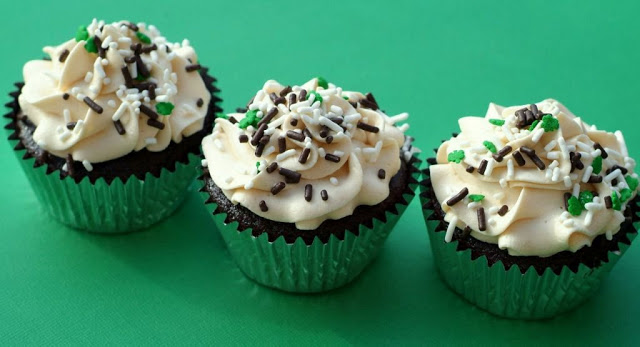 I've filled several orders for these in the past week. (I have one more to send out today, and one for this weekend.) Since this is just an adaptation of a Smitten Kitchen recipe, I decided to share it with you all.
You will not be disappointed in these bad boys! These are a Guinness chocolate cake, filled with Whiskey ganache and topped with a Bailey's Irish Buttercream. TO.DIE.FOR. My husband can't seem to stop talking about them =)
Ingredients
Cakes
1 cup stout (Guinness)
16 tbsp. unsalted butter
¾ cup unsweetened cocoa powder
2 cups all-purpose flour
2 cups sugar
1½ tsp. baking soda
¾ tsp. salt
2 large eggs
2/3 cup sour cream
Ganache
8 oz. bittersweet chocolate, finely chopped
2/3 cup heavy cream
2 tbsp. butter, at room temperature
Irish Whiskey (a few tablespoons, or more)
Frosting
8 tbsp. unsalted butter, at room temperature
4 cups confectioners' sugar, sifted
Bailey's Irish cream (I used a whole mini bottle, 100ml. It was worth it!)
Directions
1. Preheat the oven to 350° F. Line two cupcake pans with paper liners. Combine the stout and butter in a medium saucepan over medium heat. Add the cocoa powder and whisk until smooth. Remove from the heat and allow to cool slightly.
2. In a large mixing bowl, combine the flour, sugar, baking soda and salt. In the bowl of an electric mixer fitted with the paddle attachment, beat together the eggs and sour cream to blend. Add the stout-butter mixture and beat just to combine. Mix in the dry ingredients on low speed just until incorporated.
3. Divide the batter evenly between the cupcake liners, filling them about 3/4 full. Bake until a toothpick inserted in the center comes out clean, about 17 minutes. Allow to cool in the pan for 5-10 minutes, then transfer to a wire rack to cool completely.
4. To make the ganache filling, place the chocolate in a heatproof bowl. Heat the cream in a small saucepan until simmering, then pour it over the chocolate. Let sit for one minute and then whisk until smooth. If the chocolate is not completely melted, place the bowl over a double boiler or give it a very short burst in the microwave (15-20 seconds). Add the butter and Whiskey and stir until combined. (I added about 6 Tablespoons of the Whiskey, but really, just add what you are comfortable with.) Set aside to let the ganache cool until it is thick enough to be piped.
5. Meanwhile, cut out a portion from the center of the cupcake using the cone method with a small knife. I used a small melon baller for mine, you'll want to go about 2/3 of the way down. Once the ganache has reached the correct consistency, transfer it to a piping bag fitted with a wide tip and pipe it into the cupcakes.
6. To make the frosting, place the butter in the bowl of a stand mixer fitted with the paddle attachment. Beat on medium-high speed until light and fluffy, about 2-3 minutes. Gradually add the powdered sugar until it is all incorporated. Mix in the Bailey's until smooth. (Add more if necessary until the frosting has reached a good consistency for piping or spreading.) Frost the cupcakes as desired.
Recipe adapted from
Smitten Kitchen
I'm Linking To These Rockin' Parties
Anything Related Tuesday at
All Thingz Related
Making Monday Marvelous at
C.R.A.F.T.
Creative Juice Thursday at
Momnivore's Dilemma
Hoo's Got Talent at
Night Owl Crafting
Thrilling Thursday at
Paisley Passions
Show Me What Ya Got at
Not Just A Housewife
Made From Scratch Tuesday at
From Mess Hall to Bistro