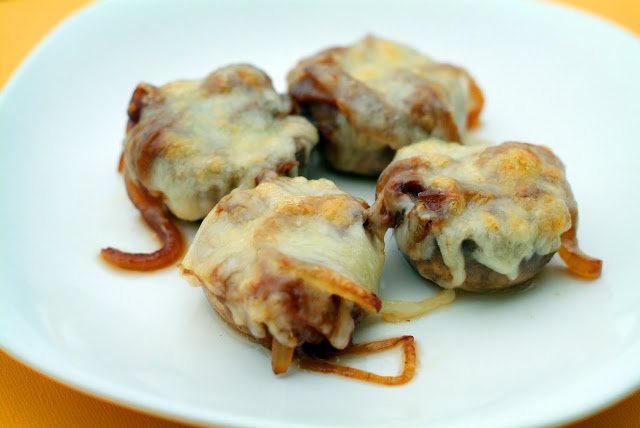 You guys are hip to
The Pioneer Woman
, right? She takes the most gorgeous photos, writes the most gorgeous things and cooks the most gorgeous food.
She's also really gorgeous herself.
This is actually the first recipe of hers I've tried! I knew Bill would love it when I saw it.
This got 2 double chins up! It was easy, AND really delicious.
P.S. As you can tell from the photo, I forgot to add the parsley at the end. Woops.
Ingredients
2 Tablespoons Butter
2 whole Large Onions, Halved And Sliced Thin
1/4 cups Beef Broth
7 dashes Worcestershire Sauce
Splash Of Red Or White Wine
1/2 cups Grated Gruyere Cheese (can Use Swiss)
Kosher Salt
24 whole White Or Crimini Mushrooms, Washed And Stems Removed
Minced Parsley
Directions
1. In a medium skillet, melt 1 tablespoon butter over medium heat. Add onions and saute for 15 to 20 minutes, stirring occasionally, until very soft. Splash in wine, broth, and Worcestershire. Cook for another 5 minutes, or until liquid is cooked down. Set aside.
2. Melt 1 tablespoon butter in a large skillet over medium heat. Throw in mushrooms and toss around for 2 minutes, just to start the cooking process. Sprinkle mushrooms with salt.
3. Place mushroom caps face down in a baking dish. Heap cavity with sauteed mushrooms, then sprinkle Gruyere over the top. Bake at 10 minutes on 325 degrees.
4. Turn on broiler and broil for a couple of minutes, until the top of the Gruyere starts to bubble and slightly turn brown. Sprinkle minced parsley over the top and serve.
I'm Linking to These Rockin' Parties
Show Me What Ya Got Got at
Not Just A Housewife
Concours d'Cuisine at
Big K, little a
Whatever Goes Wednesday at
Someday Crafts
Thrilling Thursday at
Paisley Passions
Hoo's Got Talent at
NightOwl Crafting