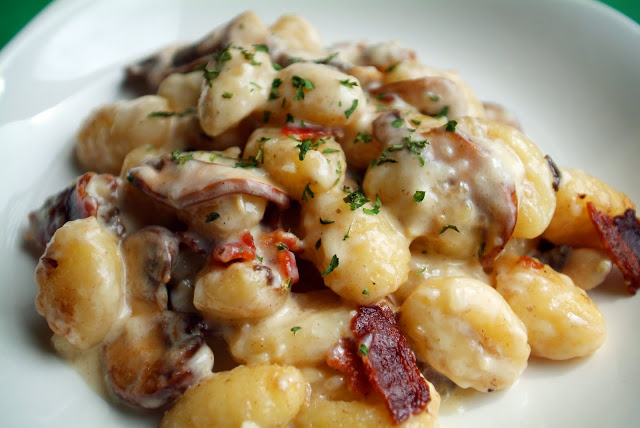 Yesterday I created this dish and was just super happy with it. I ate around the bacon and declared it a success. Bill did too! Although he decided he isn't a big fan of gnocchi (it was his first time trying it. weirdo.) and he said it would be just as awesome with a mostaccioli or penne.
What does he know anyway? He's just a stinky boy
.
2 lbs potato gnocchi OR your favorite pasta
1/2 lb sliced baby portobello mushrooms
1/2 lb bacon
1/4 cup plus 2 Tablespoons butter
1 cup heavy cream
2 cloves of garlic, minced
1 1/2 cup shredded Parmesan cheese
Minced parsley
Directions
1. Prepare your bacon using your favorite method to get it nice and crispy. Thanks to the magic of
Facebook
, I learned to cook mine on a foil lined try, in a 450 degree oven for about 20 minutes, turning once. (Thanks Amy!)
2. Bring a large pot of salted water to a boil and cook gnocchi according to it's package directions.
3. In a saucepan, melt 1/4 cup of butter on medium heat until melted. Add the cream and whisk, then simmer for 5 minutes. Add garlic and cheese, stirring until smooth. Remove from heat and keep warm.
4. In a large skillet, cook remaining butter on medium heat just until browned. Add mushrooms and gnocchi and cook, stirring gently until mushrooms are tender. Add bacon, stir and remove from heat. Serve with sauce and topped with parsley.