I'm starting you off with these because they were the last goodies I made and I took a few photos of the process. I can't guarantee I'll always do this because it kind of seemed like more work than fun. And I like my cooking to be fun!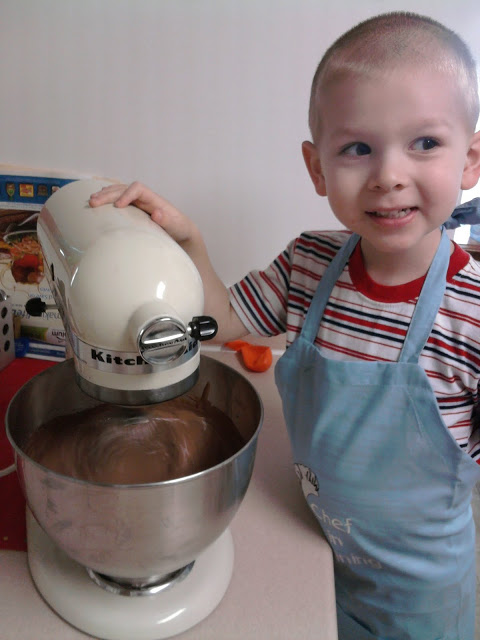 Cupcake Mix:
1 box Betty Crocker® SuperMoist® devil's food cake mix
Water, vegetable oil and eggs called for on cake mix box
Filling:
3/4 cup Betty Crocker® Whipped fluffy white frosting
1/2 cup marshmallow creme
Frosting and Garnish:
1 container (12 oz) Betty Crocker® Whipped fluffy white frosting
10 creme-filled chocolate sandwich cookies, coarsely broken (about 1 cup)
1. Heat oven to 350°F (or 325°F for dark or nonstick pans). Place paper baking cup in each of 24 regular-size muffin cups. Make and bake cake mix as directed on box for 24 cupcakes, using water, oil and eggs. Cool in pans 10 minutes. Remove from pans to cooling racks. Cool completely, about 30 minutes.
2. By slowly spinning end of round handle of wooden spoon back and forth, make deep, 3/4-inch-wide indentation in center of top of each cupcake, not quite to bottom (wiggle end of spoon in cupcake to make opening large enough, I should have made mine a little deeper.)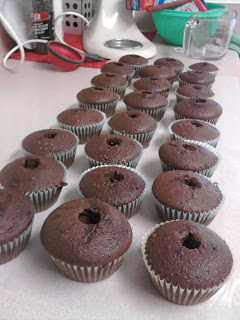 3. In medium bowl, stir together filling ingredients. Spoon into small resealable food-storage plastic bag; seal bag. Cut 3/8-inch tip off 1 bottom corner of bag. Insert tip of bag into opening in each cupcake; squeeze bag to fill opening. Look at that! You KNOW that's going to be a deadly combination.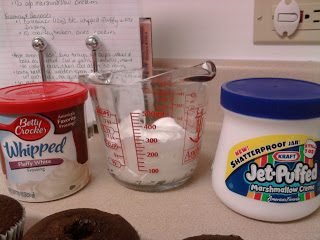 4. Frost cupcakes with 1 container frosting. Garnish each with about 2 teaspoons broken cookies.
(I thought I would make the tops pretty so I started practicing with my frosting tips. I ended up having to go back and remove some of the frosting because It became way too heavy for the cake and crazy sweet.)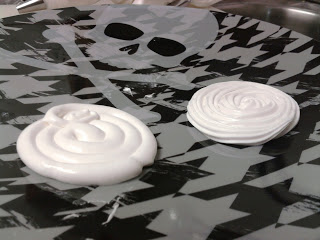 And here is the end result. As you can see, even Jackson liked them, which is a big deal because typically, he loves to help me bake, but never eats the goodies.
Yummy!