This.Thing.Is.AMAZING.
Kind of a cross between a cream puff and eclair, this was a test of my ability to be patient. Like I've said before, I tend to rush through things and this recipe showed me who was boss. I learned good things come to those who wait. I've added some of my notes, as well as the recipe for an eclair frosting I added to it. If you have time, I recommend adding it too.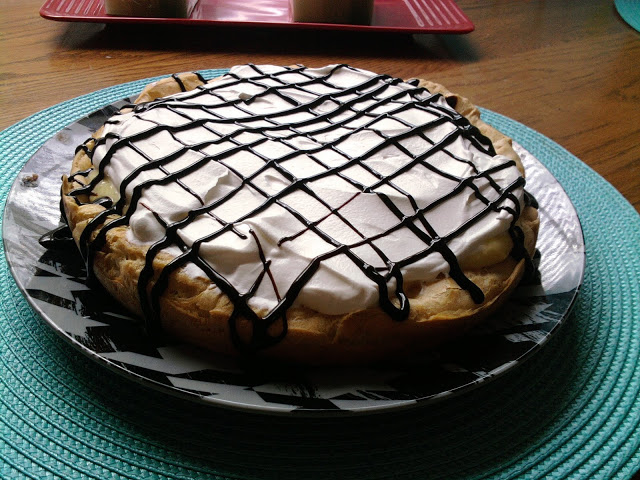 Base
1 cup water
1/2 cup butter
1 cup all-purpose flour
4 eggs
Icing
2 (1 ounce) squares semisweet chocolate
2 tablespoons butter
1 cup confectioners' sugar
1 teaspoon vanilla extract
3 tablespoons hot water
Filling
1 (8 ounce) package cream cheese
4 cups milk
3 (3.5 ounce) packages instant vanilla pudding mix
1 (12 ounce) container frozen whipped topping, thawed
1/4 cup chocolate syrup
Directions
1.Preheat oven to 400 degrees F.
2.In a large heavy saucepan, heat butter and water to boiling over medium-high heat. Add flour and reduce heat to low. Cook and stir until it forms a ball and pulls away from the pan. Remove from heat and transfer to a large bowl. Beat on LOW and allow to cool a few minutes. (If you have a stand mixer, I suggest using the hook attachment.) Beat eggs in a separate bowl. SLOWLY add eggs to batter, one at a time, beating well, on low after each egg.
This is the part not to rush. The 1st time I did this. I added the eggs too quickly and mixed it all on medium and got a soupy mess.
You need the ball to still somewhat hold its shape. In fact, I didn't even add the last half of egg. Just take it slow. The second time, I had to force myself to add some egg, then put dishes away. Add some egg, fold half a basket of laundry. You get the idea.
3.Spread batter in bottom and up the sides of an ungreased pan. You can use a 13x9 or TWO round pans like I did. Just split the batter between the two. It also helps to spray some cooking spray on your fingers as you press the batter into the pan since it is so sticky.
Bake at 400 degrees F for 35 minutes. Cool completely. You may have bubbles in the puff when it comes out and that's totally fine, just push them down like I did.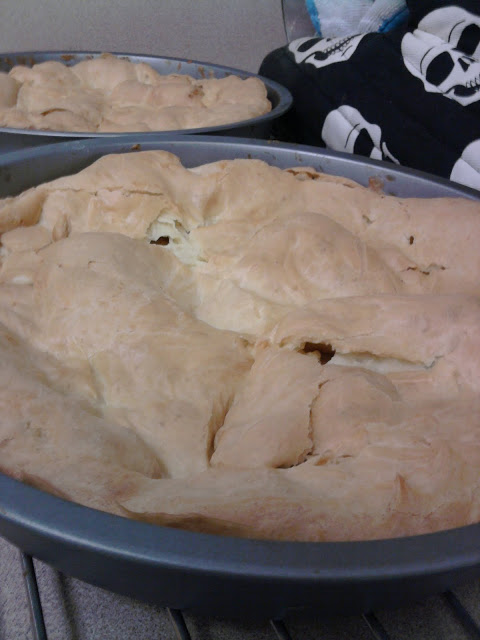 4. To make the optional icing for the bottom layer: melt the chocolate and 2 tablespoons butter in a medium saucepan over low heat. Stir in 1 cup confectioners' sugar and 1 teaspoon vanilla. Stir in hot water, one tablespoon at a time, until icing is smooth and has reached desired consistency. Remove from heat, cool slightly, and drizzle over the puff. I used a pastry brush to paint it on.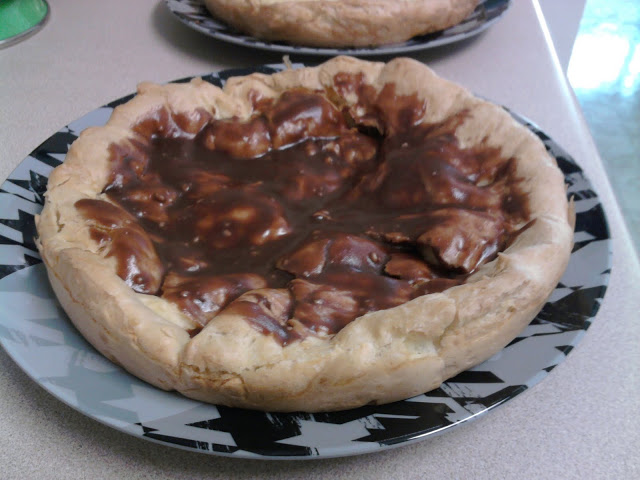 5. To make the filling: Place cream cheese in a large mixing bowl. SLOWLY add a small amount of milk and beat until smooth. Then you can slowly add remaining milk.
If you rush this, you will end up with a filling that has chunks in it. It will still taste good but wont look smooth.
Once combined, add pudding mix and beat until thickened. Spread over cooled shell. Top with whipped topping, and drizzle chocolate syrup over the top.