If you aren't a fan of OSU football, don't live in Ohio, or follow Big 10 sports, you are probably thinking something like "What the hell is a Buckeye?" I know, when we moved to Columbus when I was in 3rd grade, none of us had ever heard the term and people looked at us like we were from another planet.
A Buckeye is a nut that fall from trees here in Ohio. They look like this: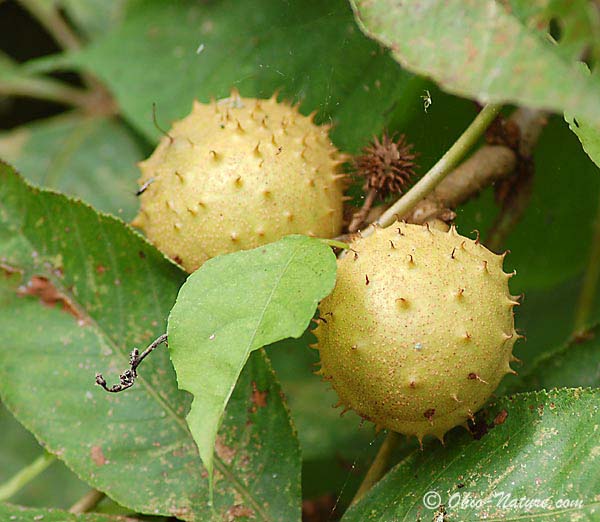 and when the pod opens, they look like this:
More importantly though, the BUCKEYE is the mascot for The Ohio State University. Football is kind of a religious experience around here, and during the season, you wont go much of anywhere without seeing these delights, which are the chocolate and peanut butter version of the nut. Most everyone I know can make these at the drop of a hat: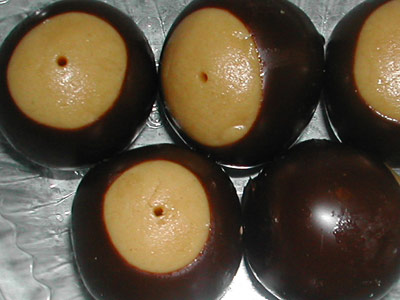 On Fathers Day, I got the brilliant idea to turn that addicting treat into a cupcake. I call them "Cupeyes." I worked for over 3 hours yesterday making the treat and I wanted to share with you how they came out. I'm pretty proud of them =)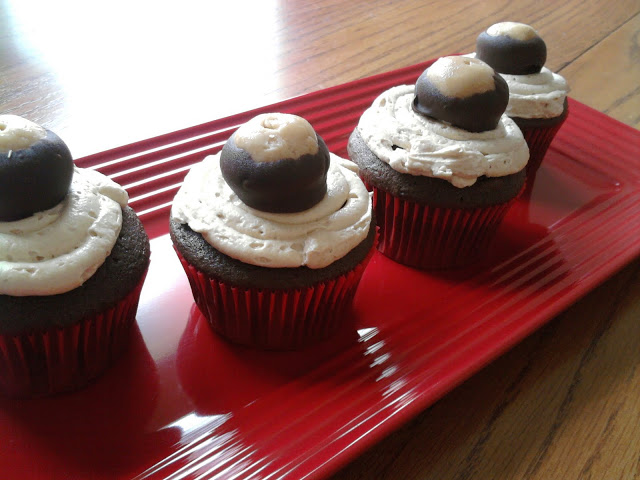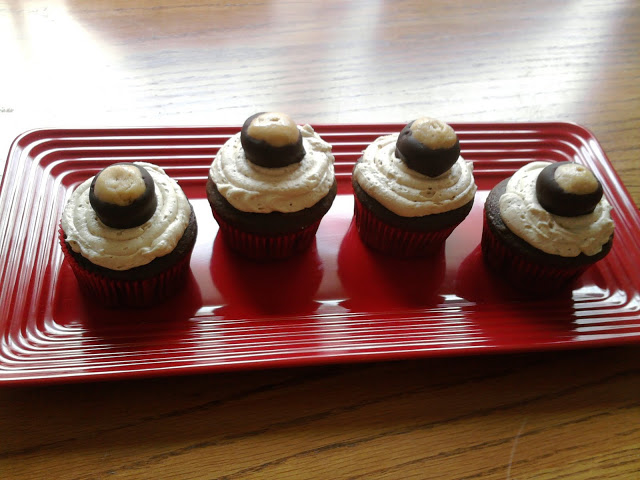 I haven't posted the full recipe because I'm considering selling these later and a lot of my readers are Columbus natives. Below is the recipe for the Buckeyes themselves, however, if you'd like the cupcake and frosting recipe I'll be happy to email it to you.
1 1/2 cups peanut butter
1 cup butter, softened
1/2 teaspoon vanilla extract
6 cups confectioners' sugar
4 cups semisweet chocolate chips
Directions
1.In a large bowl, mix together the peanut butter, butter, vanilla and confectioners' sugar. The dough will look dry. Roll into 1 inch balls and place on a waxed paper-lined cookie sheet.
2.Press a toothpick into the top of each ball (to be used later as the handle for dipping) and chill in freezer until firm, about 30 minutes.
3.Melt chocolate chips in a double boiler or in a bowl set over a pan of barely simmering water. Stir frequently until smooth.
4.Dip frozen peanut butter balls in chocolate holding onto the toothpick. Leave a small portion of peanut butter showing at the top to make them look like Buckeyes. Put back on the cookie sheet and refrigerate until serving.