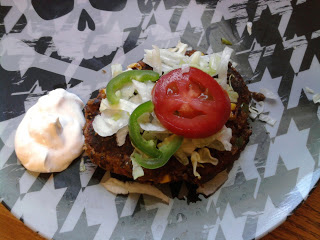 I used to get black bean cakes at a little Cuban restaurant I went to with my mom in North Carolina. (Mom grew up in Key West and has a thing for good Cuban food.)
I finally decided to make some and tried them out for the first time this week. They were fabulous! Perfect vegetarian meal. Bill and his other carnivore friends fell in love too.
Ingredients:
1-1/2 cups prepared salsa
1 jalapeño pepper
2 15-oz. cans black beans, rinsed and drained
1 8.5-oz. pkg. corn muffin mix
2-1/2 tsp. chili powder
2 Tbsp. olive oil
1/2 cup sour cream
1/2 tsp. chili powder
Directions:
1. In colander, drain 1/2 cup of the salsa. Seed and finely chop half of the jalapeño; thinly slice remaining half. In large bowl mash beans with vegetable masher or fork. Stir in muffin mix, drained salsa, 2-1/2 teaspoons chili powder, and chopped jalapeño.
2. In 12-inch skillet heat 1 tablespoon oil over medium-high heat. Add four 1/2-cup mounds bean mixture to skillet. Flatten mounds with spatula to 3-1/2-inch-round cakes. Cook 3 minutes each side until browned. Remove from skillet. Repeat with remaining oil and bean mixture.
3. In bowl combine sour cream and 1/2 teaspoon chili powder. Top cakes with remaining salsa, sliced jalapeño, and seasoned sour cream. Makes 4 (2-cake) servings.
BHG
Don't forget to entry the apron giveaway
HERE