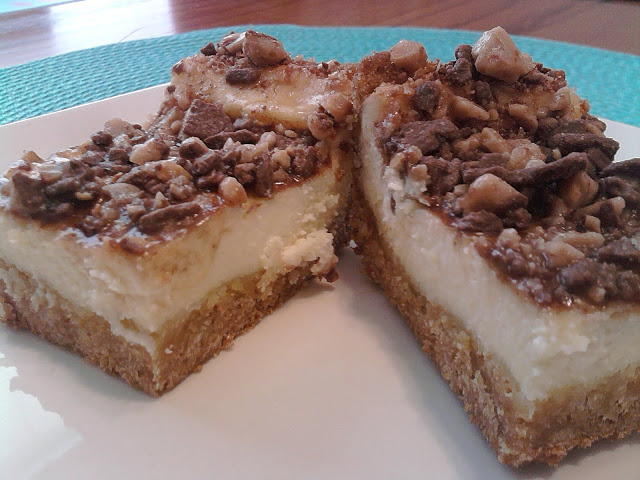 This recipe called for Toffee bits, and in the midst of a grocery shopping trip with both boys, I grabbed Heath Bars by accident. Not the same thing since Heath Bars have chocolate. Ooops? Not really. It came out sooooo good. So good in fact, when my husband dropped the glass pan and broke it sneaking some out of the fridge, we totally rescued them from the carnage. Yep. That good.
Ingredients:
1 pouch sugar cookie mix (Betty Crocker, of course)
1 box (4-serving size) French vanilla instant pudding and pie filling mix
2 tablespoons packed brown sugar
1/2 cup butter or margarine, melted
2 1/2 teaspoons vanilla
2 eggs plus 3 egg yolks
2 packages (8 oz each) cream cheese, softened
1/2 cup sour cream
1/2 cup sugar
2/3 cup toffee bits, finely crushed
Directions:
1. Heat oven to 350°F. Lightly spray bottom and sides of 13x9-inch pan with cooking spray. In large bowl, stir cookie mix, pudding mix, brown sugar, melted butter, 1 teaspoon of the vanilla and 1 whole egg until soft dough forms. Press dough in bottom and 1/2 inch up sides of pan.
2. In small bowl, beat cream cheese, sour cream and sugar with electric mixer on medium speed until smooth. Add remaining whole egg, 3 egg yolks and remaining 1 1/2 teaspoons vanilla; beat until smooth. Spread over crust in pan.
3. Bake 30 to 35 minutes or until set in center. Immediately sprinkle top with crushed toffee bits. Cool 30 minutes. Refrigerate about 3 hours or until chilled. Store covered in refrigerator.
Linking to :