This stuff is so good. How does the vegetarian know? I tasted the sauce ;) This is one super easy dinner that I tend to make on a lazy day. It smells sooooooo good while its cookin'.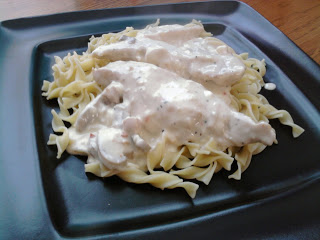 Ingredients:
4-6 boneless skinless chicken breasts, halved
1 envelope dried Italian salad dressing mix
2 ounces of water
1 (8oz) package of cream cheese, softened
1 can cream of chicken soup, undiluted
1 (4 ounce) can mushroom stems and pieces, drained
Cooked rice or pasta
Directions:
1. Place the chicken breast halves in the crock pot. Combine the Italian dressing mix and water until smooth; pour over top of chicken.
2. Cover and cook on low for 3 hours.
3. Combine the cream cheese and soup and heat on stove top until smooth and blended. Stir in mushroom pieces.
4. Pour soup mixture over chicken. Cook 1 hour more or until chicken is cooked through.
5. Serve over hot cooked rice or pasta.