This is one of my 40 bajillion variations on good ole
Bakerella's
cake ball concept.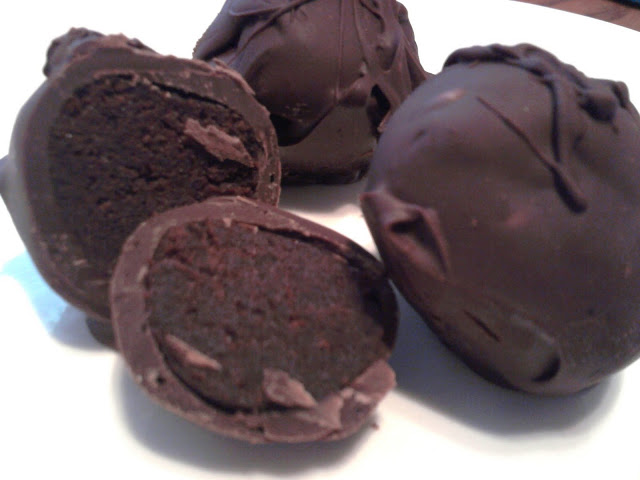 Ingredients:
1 box Devils Food Cake mix (I of course used Betty Crocker)
1 can chocolate frosting
Water, oil and eggs called for on box
Mint extract
Chocolate bark or candy melts
Directions:
1. Bake cake according to directions on box and add 1 tablespoon of mint extract, more or less to taste. Cool COMPLETELY. (My best advice is to bake it in the morning and let it cool a few hours before you start working with it.
2. Once cake is completely cooled, crumble in a large bowl. Mix one tsp mint extract into frosting, then add frosting to crumbled cake, a little at a time. You'd be smart to throw on some gloves and do this by hand; It's a bit messy. I usually only add about half the can of frosting so the balls don't end up too moist so just use your best judgement.
3. Once combined, roll into tablespoon sized balls and place on wax lines baking sheet. Place in the freezer for an hour or so. Once they have set, start melting your chocolate.
4. Using a slotted spoon, dip the balls into melted chocolate. Allow extra chocolate to drain off then and place back on wax paper to dry. If the cake balls start to melt while you are dipping, just toss them back in the freezer for 15 minutes or so and go at it again.
5. Store these in the refrigerator. YUM!