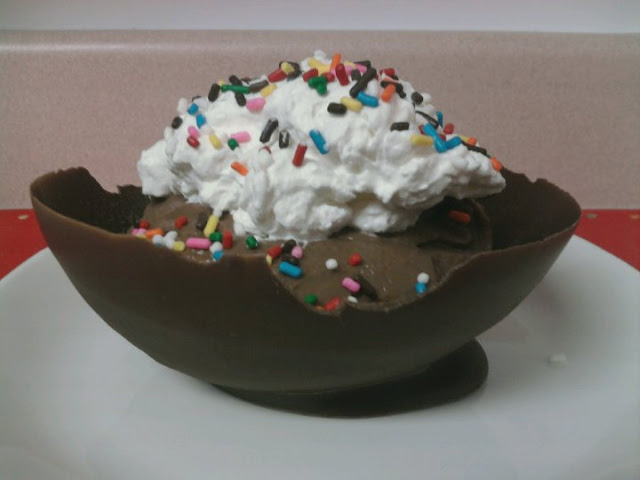 I heard about this one from
Bakerella
. (I need one of her shirts! My birthday is in October. I'm just sayin')
This is peanut butter and chocolate pudding in an edible chocolate bowl topped with vanilla whipped cream. Yes, it's as good as it sounds.
Ingredients:
1/4 cup cornstarch
3/4 cup granulated sugar
1/4 teaspoon salt
1/4 cup Dutch-processed cocoa powder
3 1/2 cups half-and-half or whole milk
6 large egg yolks
1 teaspoon pure vanilla extract
1/3 cup creamy peanut butter
1/2 cup (heaped) semisweet chocolate chips
Whipped cream for topping (Recipe Follows)
2 cups heavy cream
1/2 cup powdered sugar
1 teaspoon vanilla
Chocolate Candy Melts or Chocolate Bark
Chocolate jimmies or Sprinkles
Water balloons
Directions:
1. Into a medium saucepan, sift together the cornstarch, sugar, salt, and cocoa powder. Slowly whisk in the half-and-half, until the mixture is combined and smooth. Whisk in the egg yolks, one at a time, until smooth.
2. Cook the pudding over medium heat, whisking continuously, until the pudding starts to thicken and large bubbles form and plop, like slowly bubbling hot lava, on the surface of the pudding. Reduce the heat to low, and continue cooking, stirring continuously for 1 minute. Check the consistency of the pudding by running your finger across the back of the stirring spoon; if it leaves a trail that does not immediately fill in, it is thick enough.
3. Remove from the heat and stir the vanilla, peanut butter, and chocolate chips into the hot pudding until thoroughly melted and combined.
4. Place pudding into a large bowl and cover with plastic wrap to prevent a skin from forming. Refrigerate the pudding until very cold, at least 4 hours and up to overnight.
Whipped Cream Directions:
1. Chill a metal bowl and beaters in the freezer for about 15 minutes (to help whip the cream faster). Then combine 2 cups heavy cream, 1/2 cup powdered sugar and 1 teaspoon vanilla.
2. Beat on medium-low using a mixer until the cream starts to thicken. Then increase speed to medium-high and beat until firm peaks form.
Edible Bowl Directions:
1. Blow up the balloons, wash them off and let them dry. (Before you dip the balloons you'll want to spray a tiny bit of cooking spray on them.)
2. Melt candy melts and allow to cool slightly. Spoon a small amount on a wax-paper-covered baking sheet. Dip one balloon at a time in the chocolate, making a bowl shape around the balloon.
3. Place the balloon gently on top of chocolate you've placed on the baking sheet. Set try aside or place in the refrigerator to speed up the drying time.
4. Pop balloons with a pin. Peel any of the balloon that sticks very gently or you will break the chocolate. I did it too fast the first few time and broke some bowls. If this happens, you can just toss the pieces in a bowl, reheat it, and try again!
5. Fill cups with pudding and whipped cream, top with sprinkles and viola! Its a lot of work, but totally worth it.