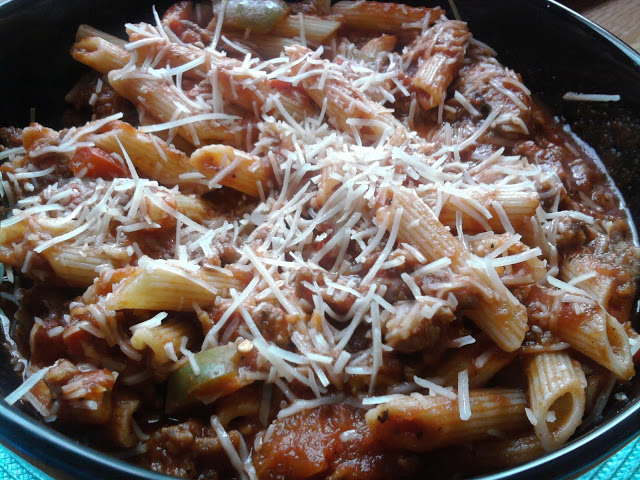 We love spicy food here in The Melton Household. You can of course, short cut this with pre-made sauce. But that's just no fun at all.
Ingredients:
16 ounces mild Italian sausage (or go hot like we do)
1 medium onion, chopped
16 ounces penne pasta
2 Tbs olive oil
2 cups sliced mushrooms
1 red bell pepper, chopped
1 small eggplant, chopped
1 (16oz) can of Italian-style tomatoes
2 tsp dried basil
2 tsp dried oregano
1/2 tsp red pepper flakes
1/3 cup grated Parmesan
I usually also toss in:
a little red pepper
a little garlic
a little onion powder
Directions:
1. Cook sausage and onion in a large, deep skillet over medium-high heat until browned and drain. Meanwhile, cook pasta according to package directions.
2. Heat oil in skillet over medium high heat; add mushrooms, bell pepper and eggplant. Cook about 5 minutes. Stir in undrained tomatoes and all spices. Simmer about 30 minutes, stirring occasionally. Add sausage mixture and simmer for 5 minutes, stirring occasionally. Remove from heat.
3. Add pasta, mix well. Sprinkle with Parmesan.
Don't forget bread!