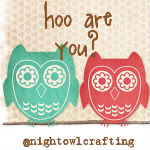 Anything to avoid folding my 4th load of laundry this afternoon =) I decided to participate in this weeks "Hoo Are You" sponsored by
NightOwlCrafting
1. What is your favorite restaurant?
I'm easy. I love cheap Mexican food so that would have to be El Vaquero
2. What kind of music do you like?
I like loud music. All types of hardcore. My old school, tattooed husband likes to tell people that his wife listens to heavier music than most men he knows.
3. What do you watch on TV?
I don't watch much TV. The only show I am a faithful fan of is Sons Of Anarchy. Ive seen every episode except one, the day after I had my 2nd son. I tried in vain to watch it from my hospital bed post c section but I was beat.
4. Do
you enjoy reading and if so what kind of books do you read?
I love books. I'm a closet nerd. OK, maybe not that closeted. I'll read anything other than romance or sci-fi I guess.
5. What is your favorite color?
It changes day to day. I suck at commitment. Which is weird for a married person with tattoos to say I suppose =)