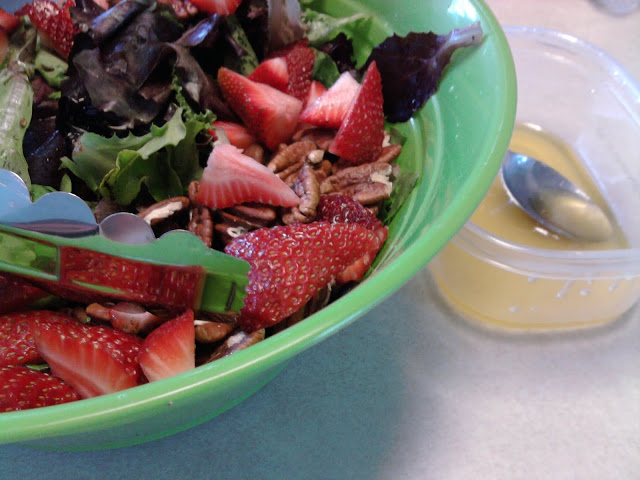 I made this for the first time on the 4th of July. It was really tasty, minus the fact that as I was rushing to get out the door, I noticed the avocado I choose was now wayyyyyy too soft. I didn't have the time to grab another, so that's why you don't see it in the photo. Bummer!
The dressing is wicked sweet, so I almost want to try salted pecans next time to counteract that. All in all it was an awesome summer salad.
Ingredients:
2 tablespoons white sugar
2 tablespoons olive oil
4 teaspoons honey
1 tablespoon cider vinegar
1 teaspoon lemon juice
2 cups torn salad greens
1 avocado - peeled, pitted and sliced
10 strawberries, sliced
1/2 cup chopped pecans
Directions:
1. In a small bowl, whisk together the sugar, olive oil, honey, vinegar, and lemon juice. Set aside.
2. Place the salad greens in a pretty bowl, and top with sliced avocado and strawberries. Drizzle dressing over everything, then sprinkle with pecans. Refrigerate for up to 2 hours before serving, or serve immediately.