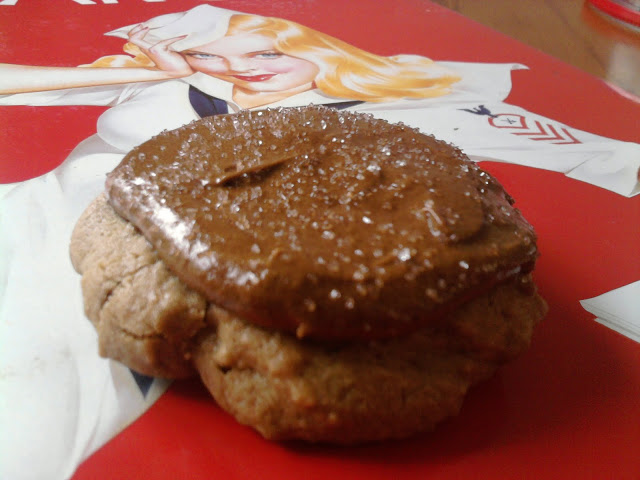 Unable to stop myself from making new things every other day, this will be another cookie for the menu. Im considering a soda shop line of flavors.
What do you guys think?
These are Root Beer Cookies. I just finished them, and they rock. (If I do say so myself.)
Cookie
1 cup granulated sugar
1 cup brown sugar, packed
1 cup butter, softened
1/2 cup buttermilk
2 eggs
2 teaspoons root beer extract
1 teaspoon vanilla
4 cups all-purpose flour
1 teaspoon baking soda
1/4 teaspoon salt
Frosting:
2 cup confectioners' sugar
2 tablespoons half-and-half
4 teaspoons butter, softened
2 teaspoons root beer extract
Directions:
1. Preheat oven to 375 degrees. Lightly grease cookie sheets or line with parchment paper.
2. In a large bowl combine granulated sugar, brown sugar, 1 cup butter, buttermilk and eggs, 2 teaspoons root beer extract and vanilla. Beat at medium speed until well blended.
3. Add flour baking soda and salt. Beat on low speed until dough forms.
4. Drop by heaping teaspoonful 2 inches apart on cookie sheet. Bake 10-12 minutes or until set. Cool completely.
5. In a mixing bowl combine frosting ingredients beat at low speed of electric mixer until smooth. Spread frosting on evenly over cookies. Let dry completely before storing in container.
Makes 5 dozen cookies.