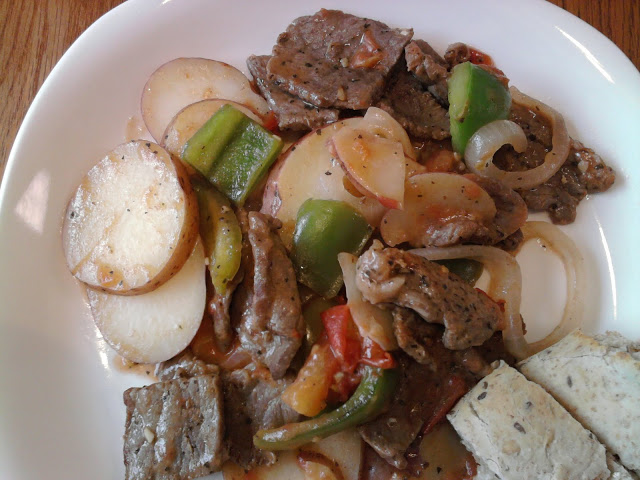 Another one of Bill's favorites in regular dinner rotation. Its even kinda healthy, but don't tell him that.
Ingredients:
8oz beef sirloin steak, cubed (3/4 inch)
2 garlic cloves, minced
3/4 tsp dried basil
3/4 tsp seasoned salt
2 tsp olive oil
1/2 medium green bell pepper, cut into wedges
1 tsp all-purpose flour
8 oz. new red potatoes, thinly sliced
1 large tomato, coarsely chopped
1 small onion, cut into 1inch wedges
1/2 cup low sodium chicken broth
Directions:
1. Combine steak, garlic, basil and salt in a medium bowl and set aside. Heat oil in large non stick skillet over medium-high heat. Once hot, cook steak and bell pepper 3-5 minutes or until browned and steak is medium rare, stirring once or twice. Remove from skillet.
2. Whisk flour into remaining oil in skillet over medium high heat. Add all remaining ingredients. Cover, reduce heat to medium and cook 8-10 minutes or until potatoes are tender, stirring once or twice. Add beef and bell pepper, cook 2 minutes or until hot.