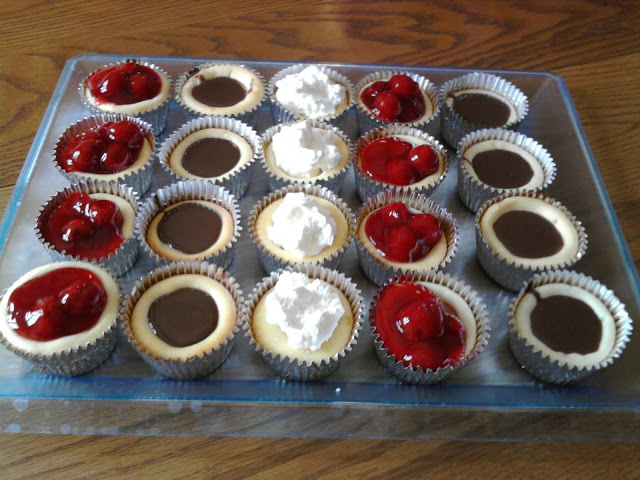 This is the first of 2 things I made for the 4th. I'm sure you've seen this recipe before, but just in case you havent, get to the store immediatley and make a batch or 7.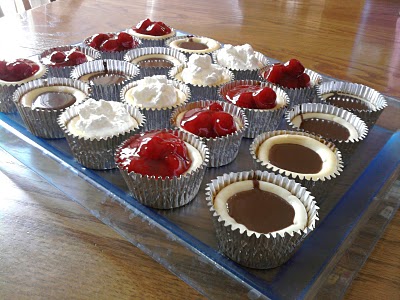 Topped with either Chocolate Ganache, Cherries or Fresh Whipping Cream.
I was in a huge hurry so the chocolate is a bit messy, but you get the idea.
*This makes 12 so if you're smart, and I know you are, you'll double this recipe. They will go fast!
12 Nilla Wafer Cookies
2 (8oz) packages cream cheese
3/4 C sugar
2 Tbs flour
1/4 tsp baking powder
1 Tbs fresh lemon juice
2 eggs
1 1/2 tsp vanilla
Foil cupcake liners
Any of your favorite toppings
Directions:
1. Preheat oven to 375. Soften cream cheese if needed. With an electric mixer, at cream cheese and sugar. Add in flour and baking powder and beat to combine. Then add in eggs, one at a time, lemon juice, and vanilla. Beat to combine.
2. Fill a muffin pan with cupcake liners and place one vanilla wafer at the bottom of each one. Divide batter between 12 muffin papers, filling each cup up to about 1/4 inch from the top. Bake for 15-18 minutes or until a toothpick comes out clean.
3. Place them on a cooling rack and allow to cool completely. While they cool, they will sink down in the center. Before you top them, chill in the fridge for at least 4-6 hours or preferably over night. Then top and serve.
OurBestBites