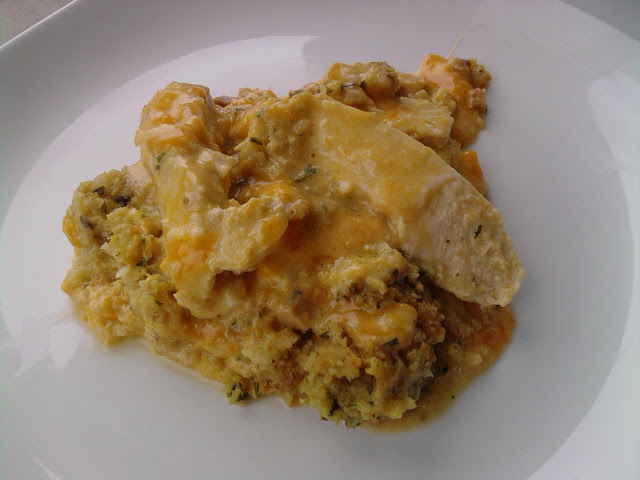 This is one of those simple, brainless dinners you can keep on hand when you just don't have the energy for cooking. I used to make this a lot when Bill was in school.
Ingredients:
1 (10oz) can cream of chicken soup
1/2 cup milk
2 eggs, slightly beaten
3/4 cup American cheese (the recipe calls for cubes but you can sub. shredded)
4 small boneless skinless chicken breasts, cooked and cut into strips
1 (6oz) package of cornbread stuffing mix
1/2 cup shredded cheddar cheese
Directions:
1. Bring soup and milk to boil in a medium saucepan over medium-high heat. Stir half cup of soup mixture into beaten eggs; add egg mixture to saucepan. Stir in American cheese and then reduce heat to low.
2. Cook, stirring until cheese melts. Grease a medium casserole dish and preheat oven to 350 degrees. Prepare stuffing according to package directions. Spoon into bottom of casserole.
3. Place chicken strips over stuffing, pour soup mixture over chicken. Cover with foil.
4. Bake casserole about 25 minutes. Sprinkle with Cheddar cheese and back uncovered another 5 minutes, or until Cheddar is melted.