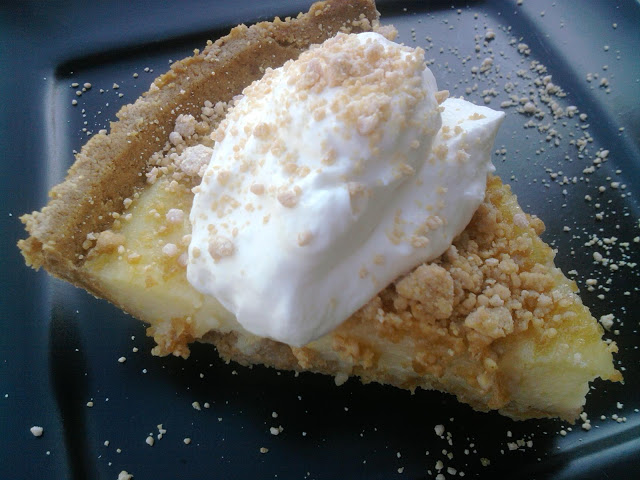 I saw this on
Southern Plate
last week and ran to the kitchen to make it, only to realize I was almost out of powdered sugar. BOO! So, I had to make it the following day instead. It was worth the 24 hour wait, for sure ;)
I modified the recipe just a touch, adding a recipe for Vanilla Whipped Cream for the topping instead of the suggested meringue.
Ingredients:
Pie
9in deep dish pie shell
1 cup powdered sugar
1/2 cup peanut butter
2 cups milk
2/3 cup sugar
dash salt
1 tsp vanilla
3 eggs, separated
4 tablespoons corn starch
Vanilla Whipped Cream
2 cups heavy whipping cream
1/2 cup powdered sugar
1 teaspoon vanilla
Directions:
Pie
1. Bake empty pie shell according to directions. In a small bowl, place powdered sugar and peanut butter. Cut sugar into peanut butter with a fork until mixture is crumbly. Place half of mixture in bottom of baked pie shell, reserve remainder.
2. In a pot, place egg yolks, milk, 2/3 cup sugar, vanilla, salt, and cornstarch. Cover over medium to medium low heat until thick, stirring constantly. Pour over peanut butter in pie crust. Sprinkle half of remaining peanut butter crumbles on top. (The rest goes on top of each piece after topping with whipped cream.)
3. Bake at 325 for thirty minutes. Refrigerate for several hours before serving.
Vanilla Whipped Cream
1. Chill beaters and bowl for 15 minutes.
2. Combine all ingredients and beat until stiff peaks form.