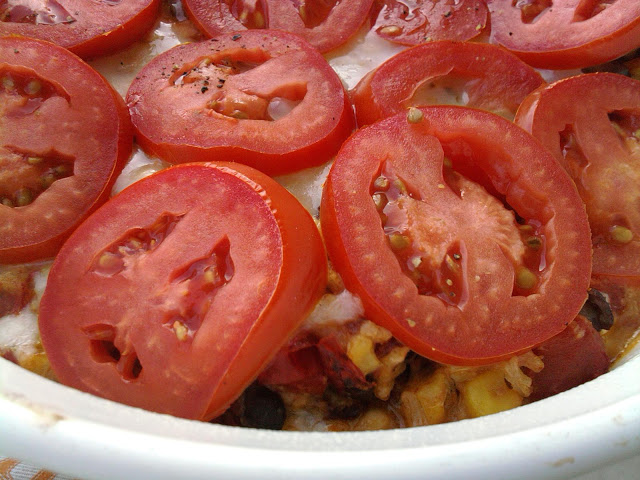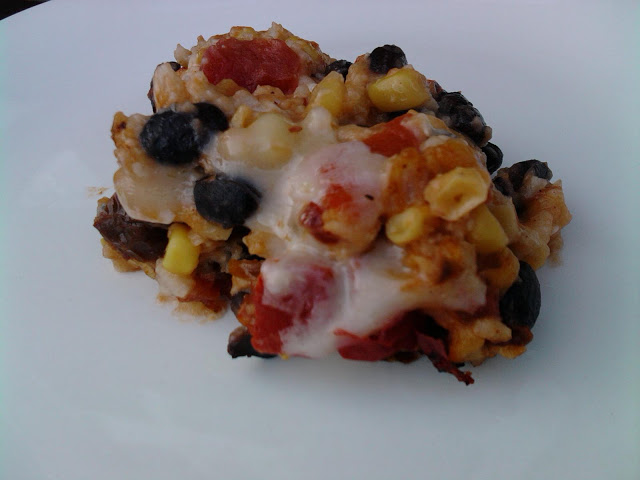 This was a super tasty change for a taco night side dish. It has a smoky flavor that I loved and just the right amount of heat.
INGREDIENTS:
1/2 cup uncooked regular long-grain white rice
1 cup water
1 jar (7.25 oz) roasted red bell peppers, drained, cut into 1/2-inch pieces
1 can (15 oz) black beans, drained, rinsed
1 can (11 oz) whole kernel corn with red and green peppers, drained
1 can (14.5 oz) diced tomatoes, drained
1 tablespoon chopped fresh cilantro
1 tablespoon canned chipotle chiles in adobo sauce, chopped
1 cup shredded pepper Jack cheese
3 tablespoons vegetable oil
1/4 cup all-purpose flour
1 cup milk
1/2 cup chicken broth
1 teaspoon ground cumin
1 teaspoon garlic salt
2 plum (Roma) tomatoes, sliced
Directions:
1. Cook rice in water as directed on package. Meanwhile, heat oven to 350°F. Lightly spray 8-inch square (2-quart) glass baking dish with cooking spray. In large bowl, mix roasted peppers, beans, corn, diced tomatoes, cilantro, chipotle chiles, 1/2 cup of the cheese and the cooked rice.
2. In saucepan, heat oil over low heat. Stir in flour, using wire whisk. Cook over medium heat, stirring constantly, until mixture is smooth and bubbly. Gradually stir in milk, broth, cumin and garlic salt. Heat to boiling, stirring constantly. Boil and stir about 1 minute or until slightly thickened. Stir into rice mixture in bowl. Spoon mixture into baking dish.
3. Bake 20 to 25 minutes or until bubbly around edges. Sprinkle with remaining 1/2 cup cheese. Arrange tomato slices on top. Bake 5 to 8 minutes longer or until cheese is melted.
Recipe via
Pillsbury