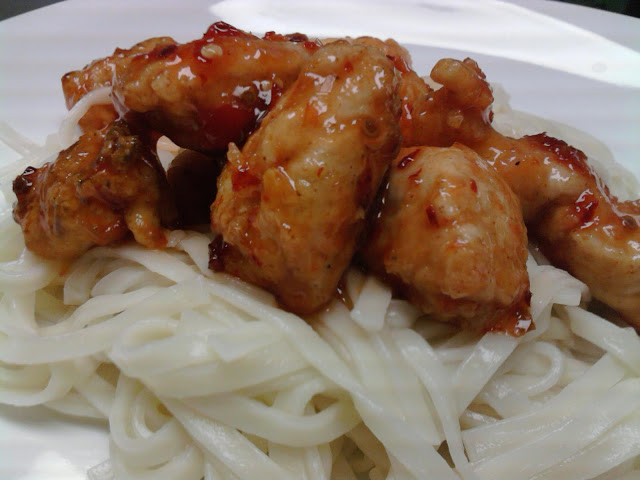 (Fiery Thai Chicken & Noodles)
This is an adaptation of a recipe my husband tore out of a golf magazine on a
Negra Modelo
ad. I have never really dappled in foods of this type so it was fun to make. It definitely has some heat to it! I blanched some fresh veggies for myself and tossed them with some of this sauce and noodles. YUM!
The recipe is actually for shrimp so you can give that a try too. It also suggests serving the chicken on a bed of shredded Napa Cabbage. Go forth and play with this dish!
Ingredients:
Breading
1/2 cup of flour
1/2 cup cornstarch
1/8 cup blackening seasoning (I left this out)
1 tablespoon jalapeno powder (I couldn't find this so I subbed in cayenne)
Thai Sauce
1 cup sweet Thai chili sauce
1/4 cup garlic chili sauce
1/3 tablespoon Sriracha sauce
Yuzu Dressing
1 egg white
5 oz vegetable oil
2 oz Yuzu juice ( or 50/50 lemon and lime juices)
Shrimp/Chicken
28 oz shrimp or 1lb chicken tenders, cut into pieces
2 oz buttermilk
vegetable oil for frying
Shredded Napa cabbage for garnish
Directions:
1. To prepare breading, mix flour, cornstarch, blackening seasoning and jalapeno powder in a bowl and set aside.
2. Make dressing by mixing egg yolk and yuzu juice in a blender on high speed. Slowly add oil until fully incorporated. Set dressing aside.
3. Prepare Thai sauce by combining its ingredients.
4. Toss shrimp/chicken in buttermilk. Drain off excess milk and add breading to coat shrimp. Shake off excess breading and fry approximately 2-3 minutes. Place on paper towels to drain off excess oil. Add fried shrimp/chicken to Thai sauce and toss to coat.
5. Serve over rice, noodles or cabbage and drizzle with Yuzu dressing.