This is me in all my permed hair, brace-face glory at about 11 or 12 years old. I'm about to go for a ride with my dad in his Cessna 140. (Please enlarge the photo for total awesomeness)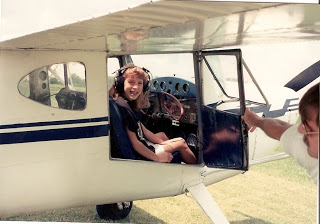 Our whole family took turns that day going for rides. (It's only a 2 seater.) I'll always remember the feeling in my belly when he would dip and dive us.... Like the best roller coaster on the planet.
It wasn't long after this that he died so these are the memories I'll always cherish.
I'm participating in Flashback Friday with Christopher and Tia. You should too =)