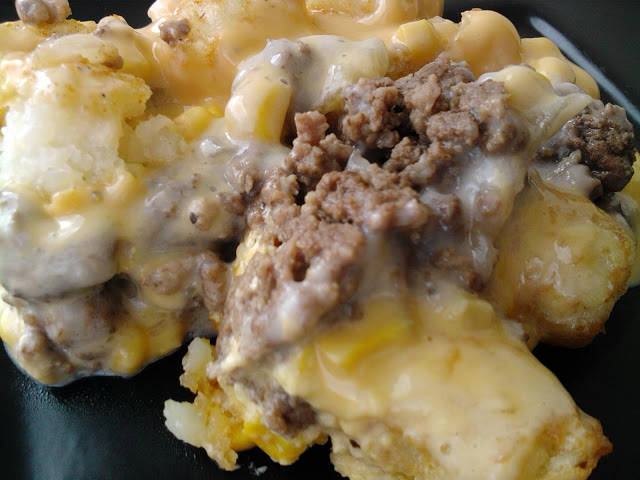 Admit it. Sometimes you get sick of fancy, healthy, trendy food. This is white-trash dining at it's finest; it includes Velveeta AND tater tots.
For the life of me, I cannot remember where I got this recipe. It's written on a napkin and Ive been making it for a few years. It's best eaten on TV trays with a 2 liter of Mt.Dew to drink. Little Debbie's for dessert ;)
Ingredients:
1 lb. ground beef
1 onion, chopped
1 can condensed cream of mushroom soup
1 can corn, drained
Small brick of Velveeta, cut into cubes
Tater Tots
Directions:
1. Preheat oven to 350 degrees. Brown beef and onion together then drain.
2. Spread beef mixture in bottom of a casserole dish. Layer soup, corn, Velveeta, and tater tots.
3. Bake for 45 minutes to an hour, until tater tots are golden brown.
I'm Linking to These Rockin Parties
Concours d'Cuisine at
Big K, little a