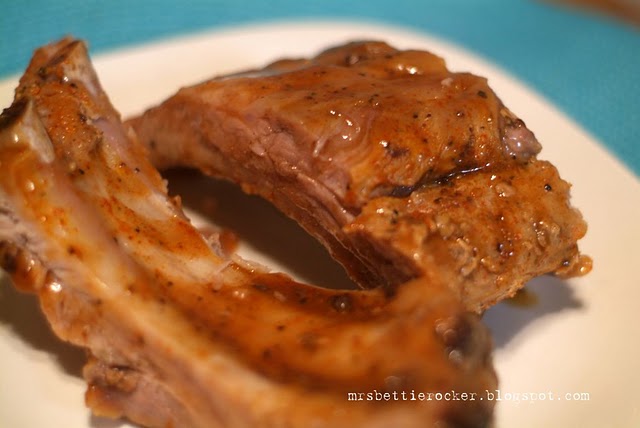 I made this on New Years Eve for Bill this year. And I made it again a week later. He was so stoked on this stuff. Aren't I such a noble vegetarian housewife??? Ribs are one of the creepiest things in the world to be. But, husband loves them.
Don't most dudes?
Anyway, I just slapped on some rubber gloves and got to it. These are made low and slow, in the oven. I hunted down a recipe from
Alton Brown
on the Food Network website. I heart him.
I want to make this again soon and play with the ingredients, trying apple cider and cider vinegar....
Ingredients
2 whole slabs pork baby back ribs
Dry Rub
8 tablespoons light brown sugar, tightly packed
3 tablespoons kosher salt
1 tablespoon
chili powder
1/2 teaspoon ground black pepper
1/2 teaspoon cayenne pepper
1/2 teaspoon jalapeno seasoning (I couldn't find this, so I left it out.)
1/2 teaspoon Old Bay Seasoning
1/2 teaspoon rubbed thyme
1/2 teaspoon onion powder
Braising Liquid
1 cup white wine
2 tablespoons white wine vinegar
2 tablespoons Worcestershire sauce
1 tablespoon honey
2 cloves garlic, chopped
Directions
1. Preheat oven to 250 degrees. In a bowl, combine all dry ingredients and mix well. Place each slab of baby back ribs on a piece of heavy-duty aluminum foil, shiny side down. Sprinkle each side generously with the dry rub. Pat the dry rub into the meat. Refrigerate the ribs for a minimum of 1 hour.
2. In a microwavable container, combine all ingredients for the braising liquid. Microwave on high for 1 minute.
3. Place the ribs on a baking sheet. Open one end of the foil on each slab and pour half of the braising liquid into each foil packet. Tilt the baking sheet in order to equally distribute the braising liquid.
Braise
the ribs in the oven for 2 1/2 hours (or more if you want it to really fall off the bone.)
4. Transfer the braising liquid into a medium sauce pot. Bring the liquid to a
simmer
and reduce by half or until of a thick syrup consistency. (I had trouble here both times and ended up adding cornstarch and water to thicken it up.)
5. Brush the glaze onto the ribs. Place under the broiler just until the
glaze
caramelizes lightly. Slice each slab into 2 rib bone portions. Place the remaining hot glaze into a bowl and toss the rib portions in the glaze.
Original Recipe from Alton Brown found here:
Who Loves Ya Baby-Back
I'm Linking To These Rockin' Parties