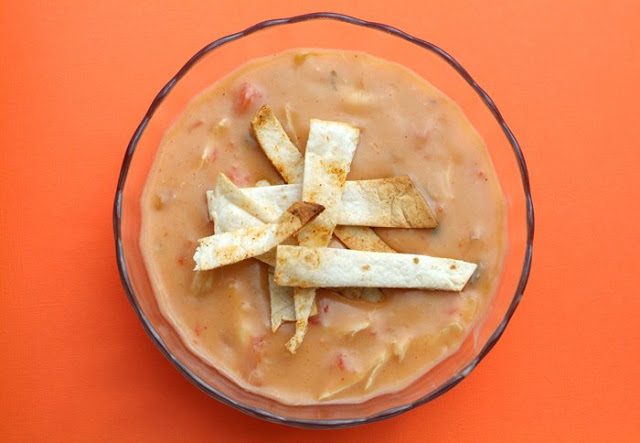 Here in The Buckeye State, there is a small chain of restaurants called Max & Ermas. One of their appetizers is a Chicken Tortilla soup that so many people I know go crazy over. A couple years ago, I went on the hunt for a copycat recipe for Bill and here is the mish-mash of the ones I found.
Ive made a meat free version for myself (of course) So check the end for substitutions.
And yes, I realize this is crazy unhealthy but it is delicious and that's how this cruel world works!
ps. This makes a whole buncha' soup!
Ingredients
Soup
4 cooked chicken breasts, shredded
2 cans cream of mushroom soup
2 can cream of chicken soup
2 condensed cream of celery soup
2 cans cheddar cheese soup
2 (15 ounce) cans chicken broth
1 (15 ounce) can diced tomatoes
1 cup picante salsa
1 (4 1/2 ounce) can green chilies
1 medium onion, chopped
4 fresh garlic cloves, minced
1 teaspoon chile powder
salt and pepper, to taste
1/4 cup fresh cilantro, chopped
Tortilla Strips
1/2 teaspoon salt
1/2 teaspoon ground cumin
1/4 teaspoon ground red pepper
2 tablespoons margarine or butter, melted
6 corn or flour tortillas, 6-inch
Directions
1. Cook and shred chicken (I do this by adding chicken to boiling water until no longer pink. Once finished, remove and then shred with 2 forks.)
2. Combine and whisk together until smooth all eight cans of soup. Add chicken broth, tomatoes, salsa, green chiles, onion, garlic, chile powder, salt and pepper.
3. Simmer in crock pot on low for about 4 hours, stirring occasionally. Add cilantro in the last 30 minutes.
Heat oven to 400 degrees.
4. In a small mixing bowl, combine salt, cumin, and red pepper. Brush melted margarine over one side of each tortilla, then sprinkle with salt mixture. Brush tortillas lightly to evenly distribute the salt mixture. Make two stacks of tortillas. Cut each stack into 1/2-inch strips.
5. Place tortilla strips in a single layer on a large baking sheet. Bake for 8 to 10 minutes or till crisp and lightly browned. (Try not to eat them before you bake them. This is always my problem.)
6. Serve with tortilla strips and shredded cheese on top. Sour cream if you're feeling crazy.
*
Veggie version
:
Use either creamed corn or cream of mushroom soup in place of the cream of chicken, and vegetable broth instead of chicken broth*
easy.
I'm Linking To These Rockin' Parties!
Whatever Goes Wednesday at

Someday Crafts
Hoo's Got Talent at

Night Owl Crafting