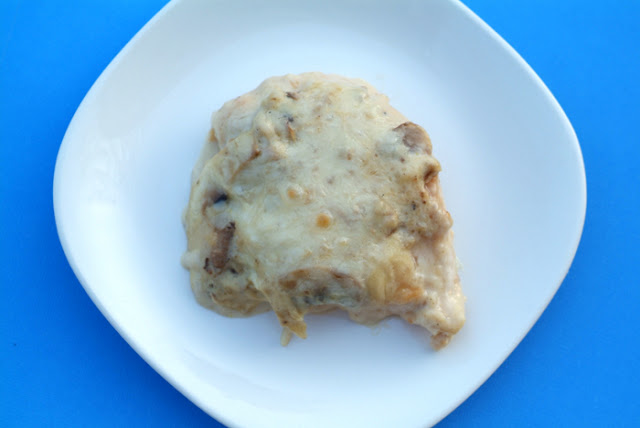 This is a variation from the Easy Everyday Cooking recipe cards my mother gave me when I was like, 20. The sauce is AMAZING, but be aware you may have to add a little more of the liquids to make it saucy enough. =) You know, a smidge more half-and-half and a couple extra glugs of the white wine. I swear, every time I make it, it changes.
Serve it with a vegetable or pasta side. I've even dished it up with mashed potatoes and a Marsala gravy.
Ingredients
6 boneless, skinless chicken breast halves
3/4 cups all-purpose flour
4 Tablespoons butter, divided
8 ounces mushrooms, thinly sliced
1/2 cup water
1 chicken bouillon cube, or 1 teaspoon bouillon granules
3 Tablespoons (or more!) white wine
1 cup half-and-half (or more!)
8 ounces shredded mozzarella cheese
Directions
1. Preheat oven to 400 degrees. Place chicken between cling wrap and pound to 1/8 inch thickness with a meat mallet. Coat each side with flour, reserving leftover flour.
2. Heat 2 Tbls butter in a large skillet. Add chicken and cook, turning once, until browned (about 2 minutes each side.) Remove from skillet.
3. Add remaining butter and mushrooms to skillet and cook about 5 minutes. Stir in reserves flour. Add water, bouillon and wine. Cook, stirring constantly until thickened, then stir in half-and-half and cook about 1 minute.
4. Layer half of the chicken in a baking dish. Top with 3/4 of the mozzarella, then layer the rest of the chicken over the cheese. Pour sauce over top, sprinkle the rest of the cheese over dish and bake, uncovered about 10 minutes.
I'm Linking To These Rockin' Parties
Show Me What Ya' Got at
Not Just A Housewife
Anything Related Tuesday at

All Thingz Related
Made From Scratch Tuesday at

From Mess Hall To Bistro