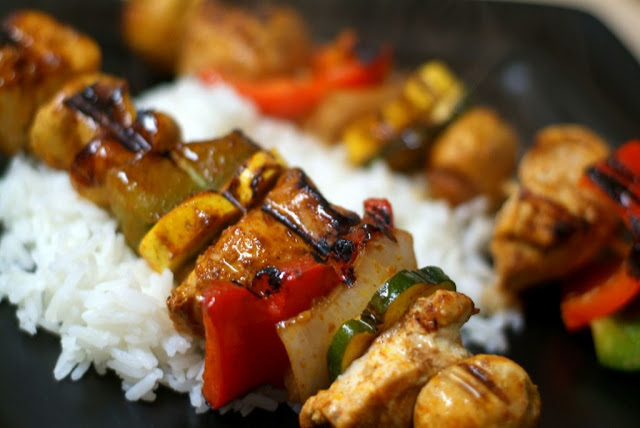 Feeling inspired by
Jess
, I have been sneaking in Clean Eating meals on Bill (and myself.) It's been a huge success so far!
This is one of his favorite clean recipes. I overheard him trying to describe
what clean eating is
to friends of ours once, and he called it "naked meals, or whatever." Oh husband, you are so cute.
I really enjoyed this recipe too, veggie style of course. In place of chicken, I added squash, peppers and tomatoes. You can really add any veggies you like!
Since it IS still winter, I just pulled out our indoor, counter top grill and cooked them that way.
Ingredients
3 Tbsp best-quality olive oil
1 1/2 Tbsp balsamic vinegar
Juice of one fresh lime
1 tsp chili powder
1/2 tsp paprika
1 large onion, chopped into thick pieces
2 garlic cloves, pressed or minced
1 tsp cayenne pepper
Sea salt, to taste
Freshly ground black pepper, to taste
1 lb boneless skinless chicken breast*, cut into 1 1/2 inch / 4-cm pieces
Veggies (peppers, mushroom squash, tomatoes, red potatoes, anything you like! I want to try pineapple next time.)
*NOTE: Use pork, beef or bison tenderloin or turkey as alternative kabob meats. A sturdy, meaty fish such as salmon works well here, too.
Directions
1. In a small bowl whisk together the olive oil, vinegar and lime juice. Season with chili powder, paprika, cayenne pepper, salt and pressed garlic.
Place the chicken and vegetables in a shallow baking dish with the sauce and stir to coat.
2. Preheat the grill to medium high. Thread the chicken onto the skewers, alternating with chopped onion pieces. Discard the marinade.
3. Lightly oil the grill grate. Grill the skewers for 10 to 15 minutes or until the chicken juices run clear.
Recipe adapted from
Eat Clean Diet
Delicious! I served this over some organic Jasmine rice.
I'm Linking To These Rockin' Parties
Hoo's Got Talent at

Night Owl Crafting
Thrilling Thursday at

Paisley Passion
s
Cheap Thrills Thursday at

Black Cat's Designs
Creative Juice Thursday at

Momnivore's Dilemma