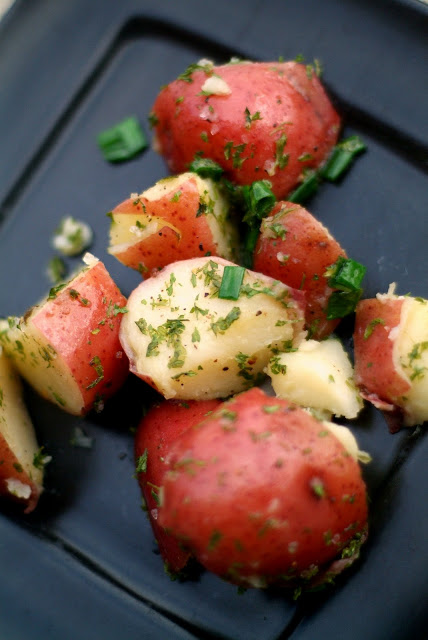 I was a bit worried about how this would go when the original recipe stated that you needed a steamer basket to make these. Being the incredibly brilliant and ingenious person that I am (not,) I just boiled a large pot of water and set my colander on top and threw the potatoes in that and covered it with a large lid. Same difference, right?
PS. They came out amazing. So tasty!
Ingredients
1 lb of small red potatoes, halved
2 tsp fresh parsely, chopped
6 chives, chopped
4 tsp extra-virgin olive oil
1/4 tsp fine sea salt
1/8 ground black pepper
Directions
1. Fill a pot with 1 inch of water and fit with a steamer basket. Place potatoes in steamer basket and bring water to a boil over high heat. Cover and cook until potatoes are tender, 10 to 15 minutes.
2. Transfer potatoes to a large bowl. Add parsley, chives, oil, salt and pepper and toss gently. Serve hot.
Recipe via
Clean Eating Magazine