My poor babies do NOT like when I am baking to fill orders and they cannot eat whatever it is I am making.
Proof.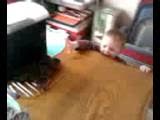 This is from this past weekend, when I was in the middle of a whole buncha' cuppycakes for birthday orders. Poor little man :( And just so we are clear, I DID bake he and his brother a half dozen of their own.
ps. We are moving in 2 weeks, hence the boxes stacked up.
pps. We have to lay all the chairs down in the house or he will dance on the tables.