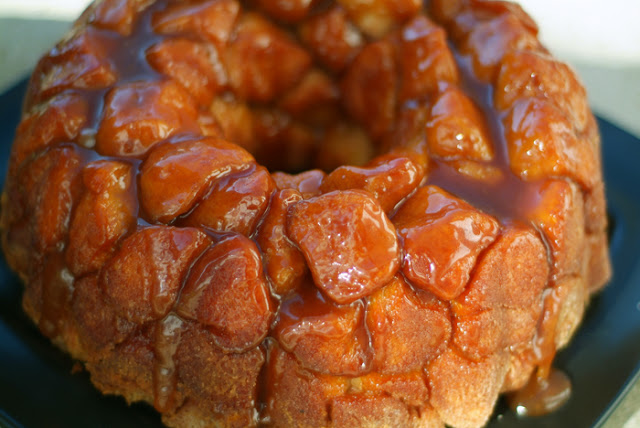 Call me what you will, but I had NO IDEA monkey bread could be so easy! I've always wanted to try this stuff but thought it had to involved hours of rising and patience. Two things I just do not like =)
Then Megan at
Kitschy Suburbia
posted a recipe and I felt like a big dummy. I could totally do that!
Finally, this Saturday morning, I did! Look at it, all gooey in the sunlight. Mmmmmmmmm....
Jack helped, he shook the pieces in the cinnamon and sugar. But then refused to eat it. Such an odd child. Nathan of course, devoured it.
Ingredients
4 (7.5oz) cans of refrigerated biscuits
3/4 cup granulated sugar
2 tsps ground cinnamon
1/2 cup butter, melted
3/4 cup packed brown sugar
1. Grease or Spray 12 cup Bundt cake pan and preheat oven to 350 degrees.
2. Mix granulated sugar and cinnamon in a 1 gallon bag. Cut each biscuit into quarters, then shake pieces in bag to coat. Place in pan.
3. Mix melted butter and brown sugar and pour over biscuit pieces in pan.
4. Bake at 350 degrees for 40 to 45 minutes or until golden brown. Cool for 5 minutes, then turn upside down and serve warm.
I'm Linking to These Rocking Parties