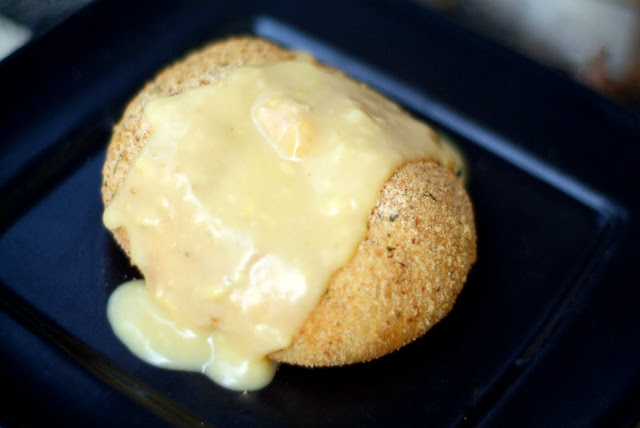 So, it only took us 24 hours to move our stuff, unpack and hang some pictures. =) We are officially settled in! I know this because today, I am doing my first loads of laundry in the new apartment.
And this recipe, is the first meal I made in my new (giant) kitchen. I have an inkling that I have quite a few followers that hail from Utah, and if so, according to
The Girl Who Ate Everything,
this recipe might not be new to you. I almost gave up being a Vegetarian for this one! It looked soooo so good. Bill destroyed his serving(s) and the baby ate a pillow all to himself. (Picky Jackson of course wouldn't touch it.)
Ingredients
8 ounces cream cheese, softened
1/2 cup sour cream
1/2 teaspoon salt
1/4 teaspoon pepper
1 and 1/2 Tablespoons dried chives
1 and 1/2 Tablespoons fresh onion minced
3 chicken breasts, cooked and diced (around 3 cups)
2 (8 ounce) cans Pillsbury brand crescent rolls
1/4 cup melted butter
Italian bread crumbs (around 2 cups)
1 (14.5 ounce) can cream of chicken soup
1 (0.87) package chicken gravy mix
* For the dried chives and onions, I actually omitted both and chopped up some green onions instead.
Directions
1. Preheat oven to 350 degrees.
2. Using a hand mixer, beat cream cheese and sour cream until well combined. Stir in salt, pepper, onion, chives, and diced chicken.
3. Using Pillsbury crescent rolls, take 2 triangular rolls and push together at perforated seam to make into a square. Make sure you seal the perforations well so your filling doesn't come out. Put about 3 tablespoons of chicken mixture in the center of each square. Fold the dough corners to the center over the chicken mixture forming a pillow.
4. Dip each pillow in melted butter on both sides. Roll in bread crumbs on both sides. Shake excess crumbs off. Place chicken pillow on cookie sheet and bake at 350 degrees for 20-25 minutes.
5. Make gravy by mixing one package of chicken gravy mix, one can of cream of chicken soup and 3/4 can of water in a small pot. Mix together and heat until warm. Serve chicken pillows with gravy poured over top.
Recipe by Heather Mueller Via

The Girl Who Ate Everything
I'm Sharing This At These Rockin' Parties:
Show Me What Ya Got at
Not Just A Housewife
Creatively-U at The Creative Crate
Recipe Roundup By Gooseberry Patch at Susieqtpies Scraps Of Life