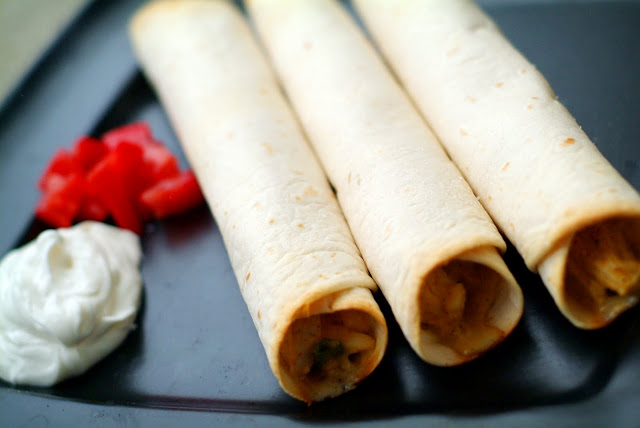 A few years ago, I was digging through my mom's old stash for recipes I wanted from her and my great-grandmother. It's this amazing little box, stuffed full of cards, (handwritten in their vastly different styles,) newspaper and magazine clippings, and other random scraps of paper collected along the way. It is truly "magical", as Jackson would say.
I'm positive that the reason I started my own collection of recipes in the way that I have, was because of that wooden box. Looking through it is sort of like looking through an album of old pictures. Each recipe is tied to a collection of memories; like eating Pepper Steak or chili on Trick or Treat nights.
On one of my mom's cards, I remember seeing a recipe for Taquitos. I had no memory of ever eating them, and I assumed it was something she and my dad ate together before I was old enough to enjoy it and I didn't copy the card.
Aaaaaaand of COURSE, I have been kicking myself ever since. That little box is on Topsail Island, North Carolina at my mother's house now, and I am back up north in Ohio. Boo. Hoo. I WANT TAQUITOS.
Lucky for me, I noticed this recipe on
www.OurBestBites.com
. I have no clue how close they are to the recipe my mom used, but Bill and I are hooked. HOOKED I tell you!
Ingredients
1/3 cup (3 oz) cream cheese
1/4 cup green salsa
1 Tablespoon fresh lime juice
1/2 teaspoon cumin
1 teaspoon chili powder
1/2 teaspoon onion powder
1/4 teaspoon granulated garlic, or garlic powder
3 Tablespoon chopped cilantro
2 Tablespoon sliced green onions
2 cup shredded cooked chicken
1 cup grated pepperjack cheese
about 12 small corn or flour tortillas (we used flour)
kosher salt
cooking spray
Directions
1. Heat oven to 425. Line a baking sheet with foil and lightly coat with cooking spray.
2. Heat cream cheese in the microwave for about 20-30 seconds so it's soft and easy to stir. Add green salsa, lime juice, cumin, chili powder, onion powder and granulated garlic. Stir to combine and then add cilantro and green onions. Add chicken and cheese and combine well.
You can prepare up to this step ahead of time. Just keep the mixture in the fridge.
3. Place 2-3 Tablespoons of chicken mixture on the lower third of a tortilla, keeping it about 1/2 inch from the edges and roll it up as tight as you can.
4. Place seam side down on the baking sheet. Lay all of the taquitos on the baking sheet and make sure they are not touching each other. Spray the tops lightly with cooking spray and sprinkle some kosher salt on top.
5. Place pan in oven and bake for 15-20 minutes or until crisp and the ends start to get golden brown
recipe adapted from
OurBestBites.com