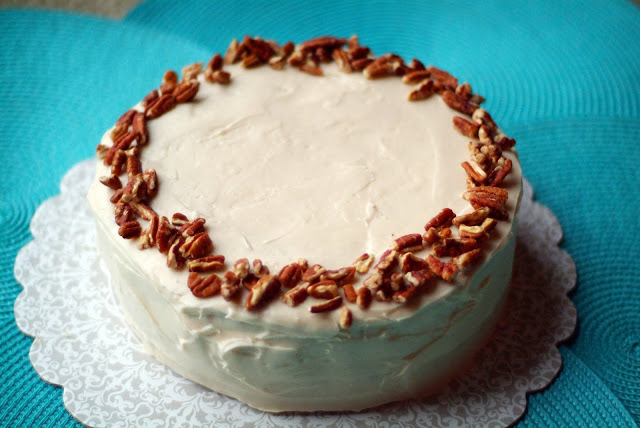 "This sh&% is the sh&%!"
That is how my loving husband described this carrot cake.
If you are a fan on my
Facebook Page
, you probably already know that this was a labor of love on Easter Eve...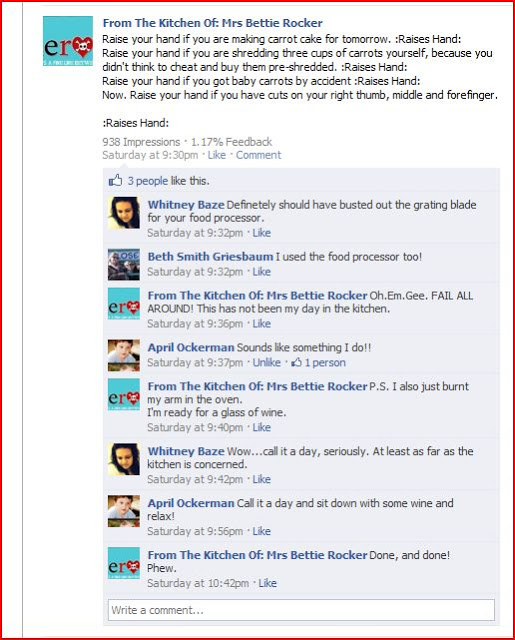 Nathan ate his cake until I forced him to stop, and Jack...well my sweet Jack was all about it until I cut into it and he saw carrots. (Side note, I made him this cake for his 1st birthday and he
devoured
it. It was so cute and sad looking at the same time with my terribly piped "Happy 1st Birthday Jackson" in blue across the top. My, how things have changed. His eating habits and my kitchen skills. )
I adored this cake as well by the way. It was a great loving thing that I did, offering the last piece to Bill. ;)
Anyway, here is the recipe. It's a tweaked version I found on
allrecipes.com
.
Ingredients
Cake
4 eggs
3/4 cup vegetable oil
1/2 cup applesauce
1 cup white granulated sugar
1 cup dark brown sugar
1/2 teaspoon nutmeg
1 tablespoon cinnamon
2 teaspoons vanilla extract
2 cups all-purpose flour
2 teaspoons baking soda
2 teaspoons baking powder
1/2 teaspoon salt
3 cups grated carrots
1 cup chopped pecans
Frosting
1/2 cup butter, softened
8 ounces cream cheese, softened
4 cups confectioners' sugar
2 teaspoons vanilla extract
dash salt
Directions
1. Preheat oven to 350 degrees F. Grease and flour your pans, OR use
Wilton Cake Release
, like I do.
2. In a large bowl, beat together eggs, oil, applesauce, both sugars and vanilla. Mix in flour, baking soda, baking powder, salt and cinnamon then stir in carrots. Fold in pecans and pour into prepared pan/s.
3. Bake until a toothpick inserted into the center of the cake comes out clean. (For my two 9inch rounds, it took about 35 minutes.) Let cool in pan for 10 minutes, then turn out onto a wire rack and cool completely.
4. In a medium bowl, combine butter, cream cheese, confectioners' sugar and teaspoon vanilla. Beat until the mixture is smooth and creamy. (You may need to add a little more powdered sugar to get the consistency you want.) You can either stir in your pecans here, or lay them around the outside of your frosted cake, like I did.
This is an adapted recipe. Original recipe by
I'm Linking to These Rockin' Parties
Whatever Goes Wednesday at
Someday Crafts
Thrilling Thursday at
Paisley Passions
Hoo's Got Talent at
Night Owl Crafting
Creative Juice Thursday at
Momnivore's Dilemma
What's Cookin' Wednesday at
Not So Homemade
Creatively-U Weekend Party at
Creative Crate
Sundae Scoop at
I Heart Naptime