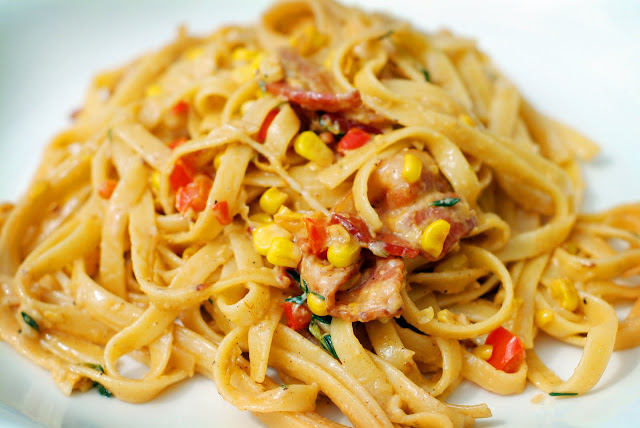 I don't cook with bacon much. For one, it's gross. It grosses me out to separate those cold, greasy, flimsy strips before you cook it. VEGETARIAN HELL!
And Bill? Weeellllll, he and bacon had a little falling out once. Back when we were dating, he had a few drinks and decided he was hungry for bacon. No big deal, except he ate an ENTIRE package and was sick for hours.
Boys are dumb. ;)
After that, he wouldn't touch the stuff for quite some time, but he's slowly been letting it back into his taste buds. I thought it was time to cook him a dish that contained a little in it.
He ate this for 3 days straight.
INGREDIENTS
1 pound fettuccine
Extra virgin olive oil (EVOO), for drizzling
6 slices smoky bacon, chopped
6 ears corn on the cob, shucked
3 shallots, finely chopped
1 small red bell pepper, seeded and chopped
Freshly ground black pepper
Salt
1 cup half-and-half or cream
1/2 cup chicken stock
or
dry white wine (I used wine!)
2 tablespoons fresh thyme leaves, chopped
1-2 pinches cayenne pepper
1 cup grated Parmigiano Reggiano or Pecorino Romano cheese, divided
1/2 cup sweet basil leaves
DIRECTIONS
1. Bring a large pot of water to boil over medium heat. Salt the water, add the pasta and cook to al dente.
Meanwhile, heat a large skillet with a drizzle of EVOO over medium to medium-high heat. Add the bacon and cook for a few minutes until rendered and crisp.
2. Put a small bowl inverted into a large bowl, steady the corn cobs on the smaller bowl and scrape the ears. Add three-quarters of the scraped corn and any corn liquid to the pan with the bacon. Add the shallots and red pepper and liberally season with salt and pepper, to taste. Cook until the vegetables are tender, 5-6 minutes.
3. Add the remaining corn and half-and-half to a food processor and puree until smooth.
Pour the stock or wine into the corn and vegetables and simmer over low heat for a minute to reduce. Stir in the thyme and corn-cream mixture and cook for 3-4 minutes, stirring frequently, to thicken. Add the cayenne and season with salt and pepper, to taste.
4. Drain the pasta and add it to a large serving bowl. Pour in the sauce, add a couple of handfuls of cheese, about 1/2 cup, and toss. Top with torn basil or chopped tarragon and pass the remaining cheese at the table.
Recipe Adapted from
Rachael Ray's
Look + Cook
I'm Linking to These Rockin' Parties
Mad Skills Monday at

Super Stinky Boys
Making Monday Marvelous at

C.R.A.F.T.
Just Something I Whipped Up at

The Girl Creative
Anything Related at

All Thingz Related
Show Me What Ya Got at

Not Just A Housewife