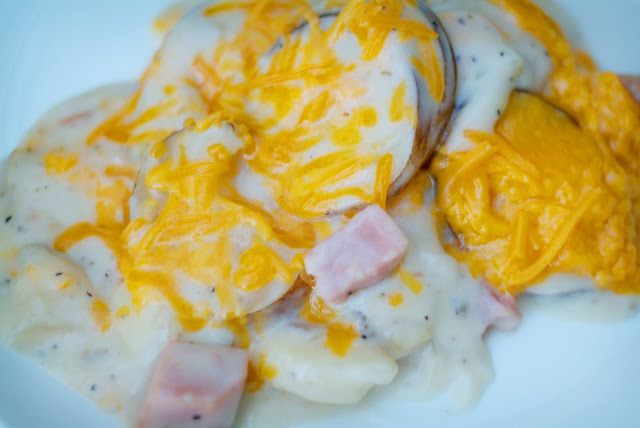 Raise the roof for dinners you don't have to think about! I make this on the days I don't want to slave over dinner, but still want it to smell good when my husband comes home from work.
Yeah. I strive for that. He deserves to come home to a clean house that smells full of a yummy meal waiting for him to devour! Now if I could just find the time and way to be drop dead gorgeous when he hits the door, I'll feel successful....
6 to 8 potatoes, thinly sliced
1 onion, chopped
1 lb. fully cooked ham, cubed
1 oz. package dry, country-style gravy mix (I like
this one
.)
1 (10 3/4oz) can cream of mushroom soup
2 cups water
2 cups shredded cheddar cheese
Salt & Pepa'
Directions
1. Combine potatoes, onion and ham in a lightly greased slow cooker.
2. Combine gravy mix, water, soup, salt and pepper in a bowl, whisking until combined. Pour over potatoes.
3. Cover and cook on low 7-9 hours, or high 3-4 hours.
4. Top with cheese during the last 30 minutes of cooking.
Original recipe by Deb Unternahrer