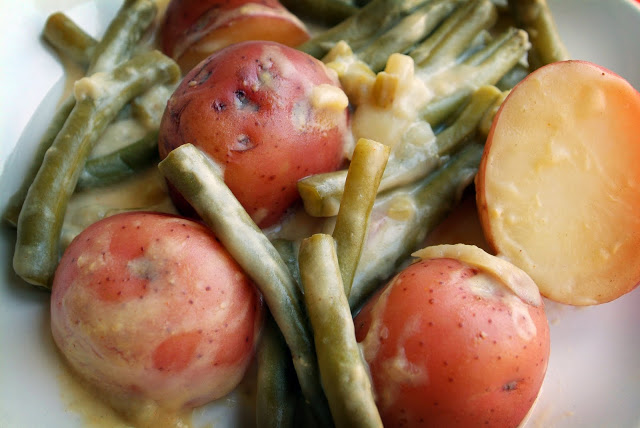 I typically eat this as a meal! Easy cookin' for a Veggiesaurus like myself. =) However, it's also a great side dish for a steak or chicken dinner.
Ingredients
2 pounds tiny new potatoes
1 pound fresh green beans, trimmed and halved crosswise
1 can condensed cream of celery soup
3/4 cup water
1/4 cup Dijon-style mustard
3/4 teaspoon dried dillweed
Directions
1. In a 3-1/2- or 4-quart slow cooker combine potatoes and green beans. In a medium bowl stir together soup, water, mustard, and dillweed. Pour over vegetables in cooker; stir gently to combine.
2. Cover and cook on low-heat setting for 6 to 8 hours or on high-heat setting for 3 to 4 hours. Stir gently before serving. Makes 12 servings.
Recipe via the Essential Slow Cooker cookbook from BHG