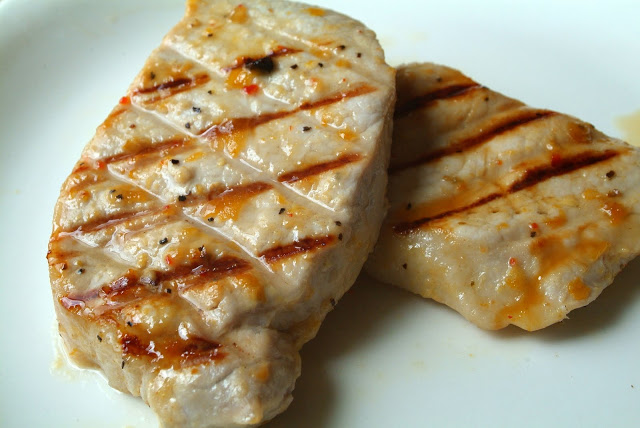 Long time, no blog! I know, I know, I've been a terrible blogger lately. Time has just been slipping past me these past couple of months! I've been insanely busy with work and play. As a bribe, I've got a recipe that I am hoping will buy back you love. ;)
*I made these indoors, on my little countertop grill.
Ingredients
2/3 cup apricot preserves
1/2 cup Italian salad dressing
2 tablespoons Dijon mustard
4 boneless pork loin chops
Directions
1. In a small bowl, combine the preserves, dressing and mustard. Pour 3/4 cup marinade into a large resealable bag; add the pork. Seal bag and turn to coat; refrigerate for 8 hours or overnight. Cover and refrigerate remaining marinade for basting.
2. Drain and discard marinade. Using long-handled tongs, moisten a paper towel with cooking oil and lightly coat the grill rack. Grill, covered, over medium heat or broil 4 in. from the heat for 4-5 minutes on each side or until a meat thermometer reads 160°, basting frequently with reserved marinade.
recipe adapted from
Taste Of Home