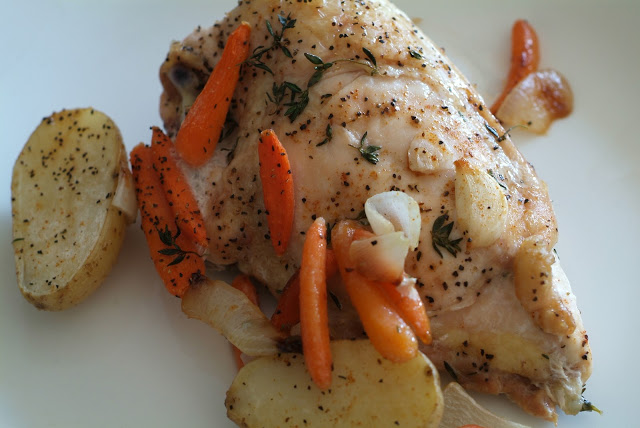 Raise your hand if you got eaten alive by summer!! :RAISES HAND:
But, I'm here! I'm still here!
I made this just last week and I'm telling you guys, it is like, the easiest good-for-you recipe ever. It smelled awesome and I even made a pumpkin pie for dessert. Good fall food!
Ingredients
2 1/2 to 3 pounds bone-in chicken pieces (
I chose breasts, which reminds me, it's October ladies, time to do those self exams!
)
2 tablespoons olive oil
4 cloves garlic, peeled and smashed
4 sprigs fresh thyme and/or rosemary
kosher salt and black pepper
Vegetables (Choose whatever you like from the following. I did mushrooms, onions taters and carrots)
broccoli: 1 bunch, cut into florets and stems peeled and sliced
cauliflower: 1 medium cut into florets
carrots: a hand full or 2 of baby carrots, or 2 pounds peeled, and cut into 2 inch lengths
fennel: 4 small bulbs, quartered
grape tomatoes: 2 pints
mushrooms: 1 1/2 pounds, halved if large
new potatoes: 2 pounds, halved
red or yellow onions: 2 small, but into wedges.
1. Heat oven to 425° F. On a large rimmed baking sheet, toss the chicken and veggies with the oil, garlic, thyme, 1 teaspoon salt, and ¼ teaspoon pepper.

2. Arrange the chicken and vegetables in a single layer and roast, tossing the vegetables once and basting the chicken occasionally with pan juices, until the chicken is cooked through and the vegetables are tender, 35 to 45 minutes.