I got a Beautiful Blogger Award today from the lovely
(OK, no lie, in the middle of typing this, my husband yells at me to turn around and our little Nathan is crawling for the first time. SO PROUD. and so sad. My baby is growing way too fast.)
Anyway!
I got a Beautiful Blogger Award today from the lovey Jess at
IROCKSOWHAT
. She's totally adorable, even if she does have finger toes.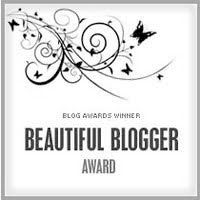 Now I'm supposed to tell you 10 things you wouldn't know about me.
I'm an Air Force brat. I've lived a lot of places and seen even more.
I met my husband in a bar. He the musician, and me the bartender who booked his band to play. It was love at first sight, the truly disgusting kind.
I love the snow. LOVEIT. I lived in North Dakots for a while when I was a kid and it was awesome. In fact, we honeymooed in Tahoe in February of 2009. I could move there in a heartbeat.
The last meat I ever ate was at a Boston Chicken when I was 14 or 15.
I gained over 60lbs with each of my sons. I was large and in charge. I told myself, the bigger the belly, the cuter the baby. And it worked. I lost all of it and then some after the first one for our wedding......
Then I got pregnant on our wedding night. Scouts honor. I think we are a reproductive dream.
I once lived with 4 band members. Fact: Band boys are dirty and they stink.
I love to sing. I went from choir geek to rock godess and I miss it dearly.
My father died in a plane crash when I was 13. He was a fighter pilot.
I had a nightmare case of Post Partum Depression after my second born. Like, visions of jumping out the window to see how many bones I'd break, hiding in the bathroom planning to get in my car and dissappear, envisioning putting my face through mirrors, crying all day, wanting to give my baby away and drown in the ocean kind of PPD.
Next, I pass this award on to 3 bloggers I adore: