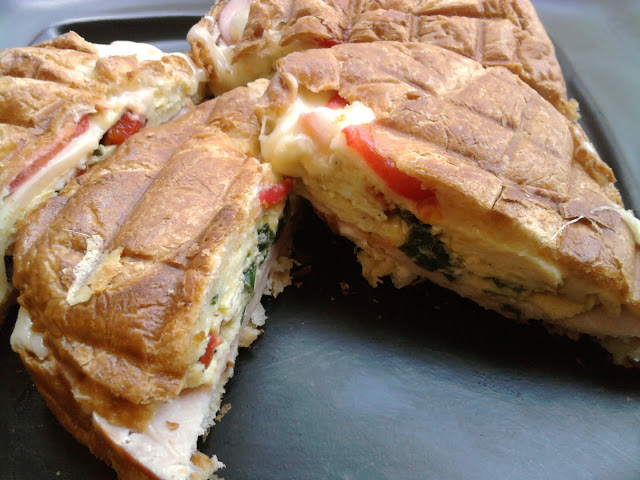 I started making this one sometime last year on the weekends. It's made its move between breakfast and dinner a few times. I was a bit terrified of the term omelet in the title because I wasn't sure I could form it right, but this one is easy peasy.
Ingredients
(makes 2)
3 eggs
1 Tbsp water
1 tsp chicken bouillon granules
1 green onion, finely chopped
2 Tbsp finely chopped sweet red pepper
1/4 tsp lemon-pepper seasoning
1/2 tsp butter
2 croissants, split
4 1/2 tsp ranch salad dressing
4 slices Canadian bacon
4 slices Muenster cheese (I usually use Provolone or Swiss)
1/2 cup fresh arugula (or spinach)
4 thin slices of tomato
Directions
1. In a small bowl, whisk eggs with water and bouillon and set aside
2. In a small nonstick skillet over medium heat, cook onion, lemon pepper and red pepper in butter until tender.
3. Add egg mixture. As eggs set, push cooked edges toward the center, letting uncooked portion flow underneath, When eggs are completely set, fold omelet in half and cut into two wedges.
3. Spread croissants with ranch dressing. On croissant bottoms, layer the bacon, omelet, cheese, arugula and tomato. Replace tops.
4. Cook on a panini maker or indoor grill for 2-4 minutes or until cheese is melted.