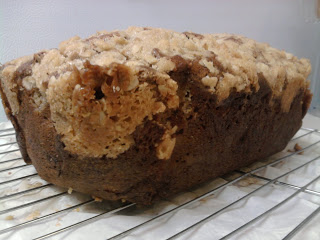 I had planned on making my regular old banana bread this weekend and I ran across this recipe and knew I had to try it out. Thank goodness I did. The whole family ate this one, including the baby. It was delicious.
Banana Bread with Oatmeal Cinnamon Streusel
Bread Ingredients:
5 or 6 over-ripe bananas, smashed up (small to medium)
2/3 cup melted butter
1 1/2 cups granulated sugar
2 eggs
2 tsp vanilla
2 tsp baking soda
dash of salt
3 cups cups flour
Streusel Ingredients:
1/3 cup granulated sugar
1/3 cup brown sugar
1/2 cup flour
1/3 cup old fashion oats
1 tsp cinnamon (I was actually out of cinnamon somehow so I omitted this, you can use more or less to your liking)
6 tablespoons cold butter
Directions:
1. Preheat oven to 350. Spray your loaf pan/pans. (I used parchment paper instead.)
2. Mix bananas, butter, sugar, egg, and vanilla together. sprinkle baking soda and salt around on top of the banana mixture. Then gently stir in flour - just till incorporated. Do not over mix.
3. In a small dish, mix together the dry streusel ingredients. Cut in the cold butter.
4. Add the batter to the loaf pan. Sprinkle the top generously with streusel.
5. Bake until toothpick comes out clean. Mine took about 50 minutes in my crappy oven. I'd suggest to start checking it at 30 minutes.
Recipe from
Heidi Bakes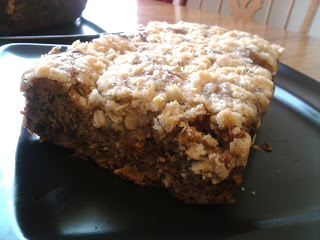 I actually got a text from my husband as I was typing this out that's said "That banana bread was the bomb with my coffee this morning." So there you go. Five stars from Bill.
Enjoy!
Go to THIS post for the apron giveaway!